Real Estate business or property management follow a unique set of marketing styles. Their marketing principles are different and unlike other industries. They use holistic as well as modern day and age marketing practices to generate business. 
And the fun fact is that both marketing attributes give this industry a good return. However, modern practices work effectively for this industry because the practices are niche to the business strategy and provide optimum outcomes resulting in increasing property selling rates.
Although, newer marketing terms provide faster results on behalf of that old marketing philosophies have minor impacts.
Another reason could also be the increasing number of consumers using the smartphones and internet to find answers. In fact, according to the National Association of REALTORS® Research Department, 44% of people look for properties online first, which makes realtors and other property management communities to re-establish their marketing strategy and commute to Search Engine Optimisation (SEO) as a must-have strategy.
Those who aren't familiar with online marketing, SEO is a modern age, a win-win digital marketing strategy for real estate realtors/agents.
If you're serious about generating business, interested in selling property through online mediums, and actively stand apart from real estate market competition, it's time to refigure your business strategy and switch with SEO for real estate.
Continue reading to learn more about SEO for real estate agents, plus get six helpful real estate SEO tips!
Achieving relevant results from Search Engine Optimisation (SEO) for real estate business requires help from some professional SEO service provider or real estate SEO company. G2S Technology offers complete SEO services for realtors, property managers, and real estate owners with a complete digital team for optimising your website and growing your business. Contact us online or call us at 797-637-3846 to learn more today!
What is SEO for Real Estate?
As you have acquired a bit of knowledge of SEO now, let's understand in detail what SEO is all about for a real estate business or website.
First thing first, SEO is how you get found online.
SEO stands for Search Engine Optimisation is a present day online marketing practice concentrated over a real estate website to help achieve a better ranking on search engine result page. For instance, if your users are majorly using Google (which is true) to find, search, and get answers related to property, then optimising your website to inherit good ranking on Google through SEO will be called real estate SEO.
When optimising your website using SEO, you are actually expanding your business curve. SEO helps your site to gain more web traffic. Eventually, it provides you more. Learn about SEO advantages.
How Does SEO for Realtors Work?
If you're an estate agent, you might allude to know how does SEO works for us.
It is simple and complicated…!
It all started with keywords (which do user searches) and websites (where you can convert them) while keeping the SEO algorithm in mind.
And wait! One more thing…ranking 🙂
SEO for realtors involved in bringing changes in websites with lots of factors in the middle in an attempt to improve its ranking in search engines.
Those changes are keywords placement, website audit, url assessment, sitemap checking, and counting more.
The interesting part of SEO is brining ranks for specific keywords or search terms depends on factors like:
The frequency of utilising the keywords
How quickly your website loads
Checking websites optimised for mobile devices
Number of authoritative links gained for the website
Like this, there are more involute processes happening under SEO and this is a little more complicated than you might expect.
Look at what can work for your real estate website in response to get an effective SEO ranking among competitors. Here's six brilliant real estate SEO tips you should be doing by now.
---
Read More Industry Guide: 
Locksmith SEO: A Useful Guide To Local SEO For Locksmiths
SEO for Early-Age Startups: Guide To Build Successful SEO Campaign Roadmap
---
6 Real Estate SEO Tips To Look Right Now
Wondering where to get started? Use these six real estate SEO tips to ensure that prospects looking for real estate agents in your area can find you.
1. Research keywords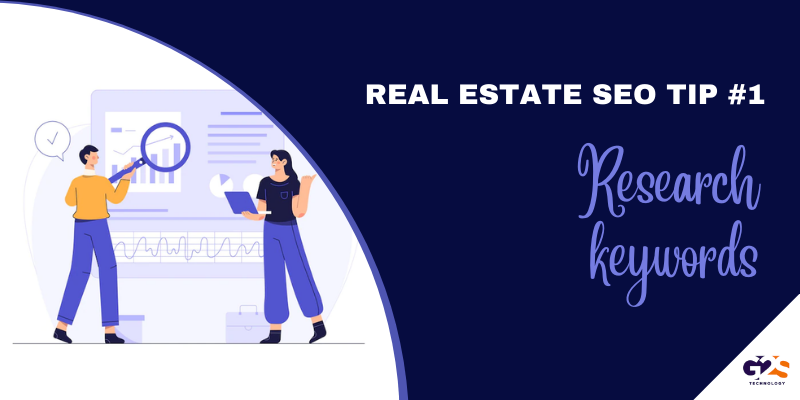 Indeed, you aren't familiar with the search engine users' search patterns, intent, and mindset. But, when you do keyword research at a fractional rate, it gives an idea or at least helps you frame your complex strategies for SEO.
Understand each concept of search behaviour. If I am not wrong you would find 60% keywords intended to aggressive trade i.e. ready to buy. You just need to rank on those keywords and landing them on a user-friendly page for conversion.
2. Add keywords to your site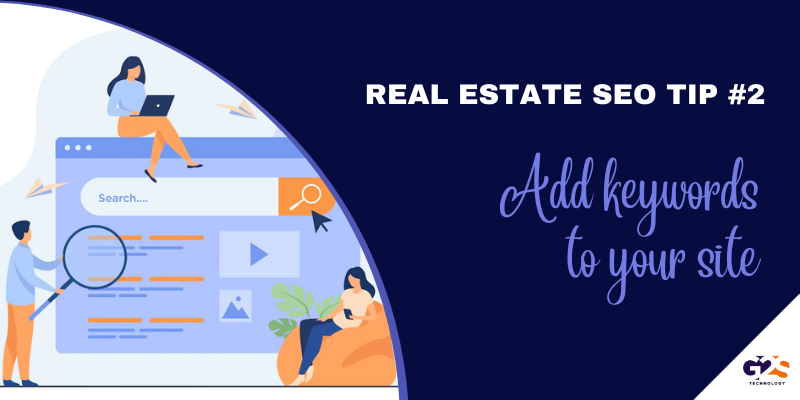 Now the big question arises how you will target those filtered keywords. It is simple, treat them as a family and let them enter in your room (website pages) with high-quality content and absolute information.
Focus on putting your keywords in places like your title tags, headers, and body copy. These are the places where people actually look and adding them logically would make Google confident to provide a quick and better ranking position on its search result pages.
3. Add location-specific keywords to your website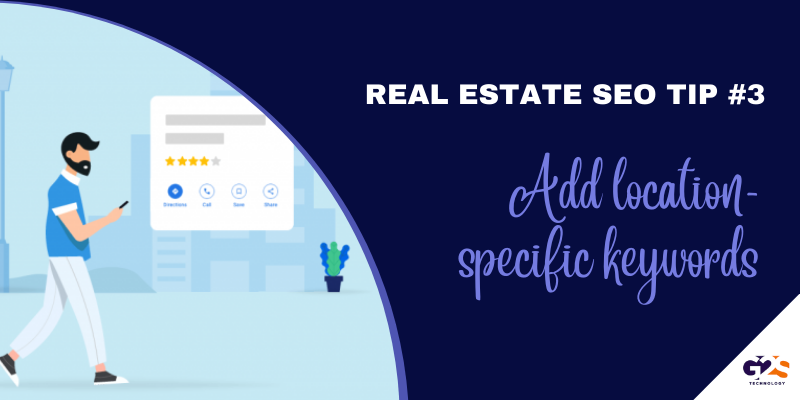 In real estate, when selling property to prospects the most important hanging subject is location. You might see billboards and posters of real estate with mostly emphasis on the location.
And the same goes with SEO. Concentrating only on keywords without location is like swimming with only one hand which associates a risk of drowning.
So, when you are targeting keywords add location specific keywords as it primarily helps you rank for geographic search terms if matches.
For example, if you are an agent located in Vaishali Nagar, Jaipur, you could use terms like:
Vaishali Nagar Realtor
Real estate agent in Vaishali Nagar
Sell home in Vaishali Nagar, Jaipur
And this would give you results as any or all of these keywords would bring traffic from concentrated markets and prospects residing in the area interested in your service.
4. Optimise listings with relevant keywords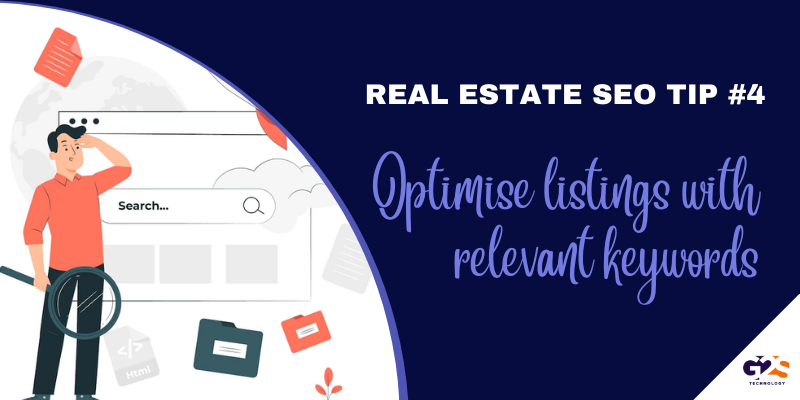 "Real estate listing" refers to a practice of listing a home for sale by a property owner or by a community authoritative real estate agent.
So, when considering SEO for real estate listings should be part of your keyword strategy.
Many property seekers are looking for "spacious" homes with lots of room featuring "storage", "modern appliances", "stainless steel", and "hardwood floors".
Use those phrases on every occasion possible — that manner, your listings appear at the very second people are seeking out those styles of houses.
5. Engage users with compelling content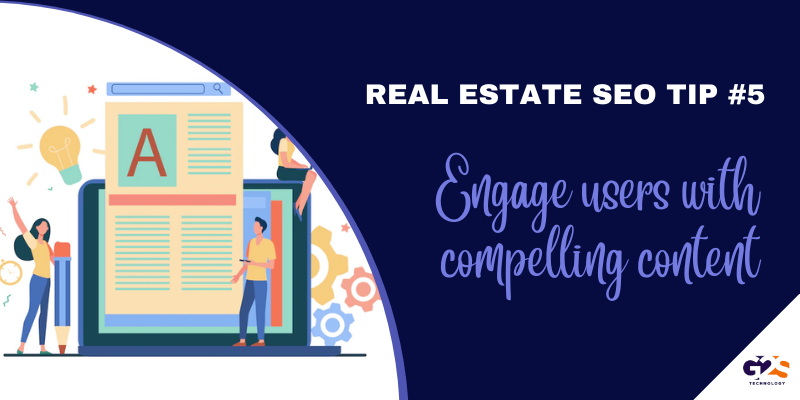 In addition to using keywords in your website, you could also focus on creating new content for your site. Derive content that is liked by your audience, actually need answers or looking for more information.
You could start by introducing a blog section or cater FAQs page to engage users with compelling content. Specifically, this brings organic traffic and enriches your brand image in local rankings.
Some examples of topics you can think to get started:
How to Sell Your Home in Less Than 30 Days
A Guide to Home Buying for Beginners
How to buy property in Vaishali Nagar
Things to consider while buying home for family
Start writing this type of long content to get leads and pull them to learn more about your services.
6. Use strategic images and videos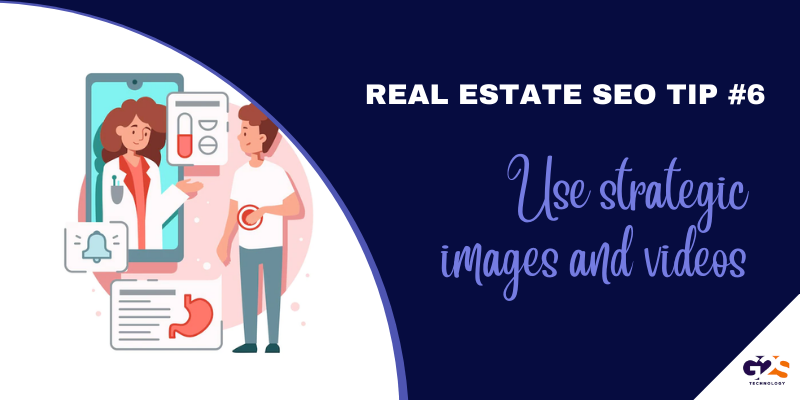 If you're planning to disburse impact on your prospects or traffic viewers. Think of integrating high-quality multimedia as selling property is highly dependent on videos and visual information.
Online users to buy a home have come to expect pictures of properties. Aim to present high-quality images and virtual tours of properties. In addition to images, give image descriptions and alt tags for SEO purposes.
Why is SEO for Realtors a Good Investment Option?
Today, SEO has become a must-have strategy for every business and verticals. Major SEO companions industries are hospital, tour and travel, real estate, and automation.
As Real Estate vertical is the third most SEO utilised venter, the spectrum of competition is standard. Don't think that if you're optimising your website using SEO medium, your competitors won't. Maybe you are the follower!
However, SEO provides money making benefits to each industry but varies in terms of the nature of SEO optimization.
SEO is important for real estate agents because:
1) It increases your visibility
Most property seekers use Google to find service providers which include real estate agents. However, 75% of customers don't go beyond the primary page of consequences. Search engine marketing can help you grow your visibility for the phrases and terms that your capability customers are truly using to find real property online.
2) It helps you attract more visitors
The first five positions in search effects get sixty eight% of all clicks. As your ranking drops, so does the quantity of clicks to your website. With search engine optimization, you may reliably entice more traffic for your internet site.
3) It improves your reputation
Sites that seem at the top of search engine outcomes are perceived as having more credibility and authority than lower-ranking sites. This increases the chance of clicks. Also they offer USPs and highly concentrate on how to satisfy customers.
---
Read More Industry Guide: 
Dental SEO Guide: SEO for Dentists & Tips for Dentist Website Optimization
Pest Control SEO: Increase Traffic + Generate More Business With SEO
---
Need Help With Real Estate SEO? Get Professional Help For All Your SEO Needs for Growth
As you gained comprehensive knowledge about realtors SEO with mentioned tips, be sure to keep them in pace. However, effective SEO takes time.
Need help getting started with SEO for realtors? With professional search engine optimization offerings, like from G2S Technology, your commercial enterprise can attract greater customers and sell greater homes, without reducing your busy day. So don't hesitate to contact us

Real Estate SEO: A Complete Guide For Real Estate Businesses/Realtors