People say that long-tail keywords are easier to rank in GSR and convert better. But is this true? It depends on your business and audience. There are different types of long-tail keywords, and some are no easier to rank than their short-tail counterparts.
In this article, you will learn about how to choose the right long-tail keywords that drive more organic traffic to your website.
What Are Long-Tail Keywords?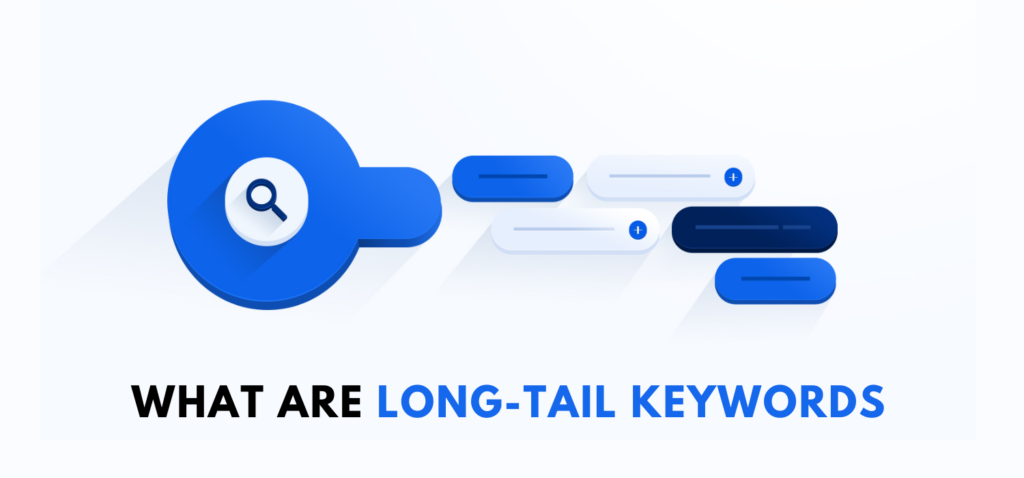 In Search Engine Optimization, Long-tail keywords are search queries that consist of 3-5 words and are more specific to the search intent of the user.
They are much easier to rank for the more generic keywords like "head keywords" or "head terms".
If your site is new, or you just don't rank high, it can take years of hard work and continuous improvement to rank for highly competitive top positions like "coffee" or "marketing."
Targeting your audience using long-tail keywords can deliver your content faster than a keyword.
Even though long-tail keyword search volume may not be as high as the head term, you can still drive in a lot of traffic if you place your website on multiple first pages of SERPs in multiple long-tail keyword variations.
Long-Tail Keyword Example
Depending on what topics your site creates content on and how many pages you have, you'll want to assemble a fairly large relevant list of long-tail keywords that you can use on your site. Optimizing your site for the same keywords on every page isn't realistic or SEO-healthy for you, so you'll need a running list of great keywords.
If you're a local brand taking help of local seo services and looking for local traffic, it's a good practice to add "Near Me" to your long-tail keywords. For example, long-tail keywords including "organic coffee shops near me" or "by Guiana chestnut plant near me" are both good examples of whether a user is in the final stages of their buyer journey through a long-tail query. Using specific keywords like "organic coffee shop" and "Gianna chestnut plant" will help you rank better because they are ahead of the general keywords that big brands are trying to rank for.
Why Long-Tail Keywords Are Important for Driving Organic Traffic and Conversions Rates
By targeting SEO based long-tail keywords instead of head and short keywords, you are more likely to attract visitors interested in your site, product or services. Here are 3 reasons why:
Less Competition

Long-tail keywords are much easier to rank for due to relatively less competition. By using long-tails during promotion, you can get top positions in search results very quickly and with little effort.
High Conversion

People who enter a specific query know exactly what they want to know or find. Because of this, the conversion percentage increases significantly. For example, a person who writes in the search bar "buy a baby stroller for a boy" when he sees a suitable product on the site is most likely to make a purchase.
Increased Targeted Audience

Google search is becoming more easy to use. If two people enter the same word, they are likely to see different results depending on their place of residence, gender, age or personal preference. More precise and locally used keyword phrases partially allow you to bypass such targeting to show your content to more users.
The Best Long Tail Keywords Full Guide
Now that you know why long-tail keywords matter, now the point is how can you start using them?
There is no one-size-fits-all formula for finding long-tail keywords that attract traffic and conversions. You may have to use several keywords before you find the one that gives you the desired results.
There are a few formats you can follow to make good lists of keywords to try. Let's figure out each of them:
🠞 Create Unique Selling Possibilities
To find keywords that pay for you, start by thinking about your business. Ask yourself these questions:
What makes your product or service useful and different from others?
What kind of people need what you're offering?
Why should they choose you over your competitors?
Keep these key benefits in mind when choosing your long-tail keywords. Ideally, your keywords should highlight what you do best and why you stand out from the competition.
These factors will help you reach the users who need what you are selling. Remember, the more unique the search query, the smaller the audience. However, it is the conversion that matters.
🠞 Understand what your target audience and the existing customer wants and needs
Your potential targeted customers have needs and wants — your job is to understand those needs and wants before proceeding.
What questions do they need to be answered?
What pain points do people have?
What possible solutions do people need for their problems that you can provide?
What do people consider before investing in what you offer?
Your sales department can answer these questions for you. Anyone in your organization who deals with clients or customers has insights you can use. The most important step is to make a list of the answers to these questions before moving on to keyword research.
🠞 Do Keyword Research of What Possibly Your Customer Will Use in a Question
So after knowing your USP, your customers and their needs and wants.
Next, you need to research and make sure that the words you use to reach new customers are the same words they would use in a question.
Keyword research can help you find related words you haven't considered. It can also help you find keyword variations used by your competitors.
🠞 Take User Intentions Into Account
After you've created a list of long-tail keywords to use, review them again. Consider why people search for those words.
What are they trying to find?
At what point are they in the buying position?
When you use your keywords on your site, make sure your content provides information about those users.
Whatever you do, don't use long-tail keywords that aren't appropriate, even if you think they'll be easy to rank for. For example, don't write a blog post matching a search query of "make iced coffee at home" and then create content that talks only about your coffee product.
Visitors will be annoyed if your site or product doesn't meet their needs or answer their questions when they visit your site. This is where understanding researching your audience's intent can come in handy.
Within a SEMrush tool like organic research, keyword overview, or domain overview, you can evaluate whether a long-tail keyword is informative, transactional, commercial, or navigational.
Best Long-Tail Keyword Research Tool Free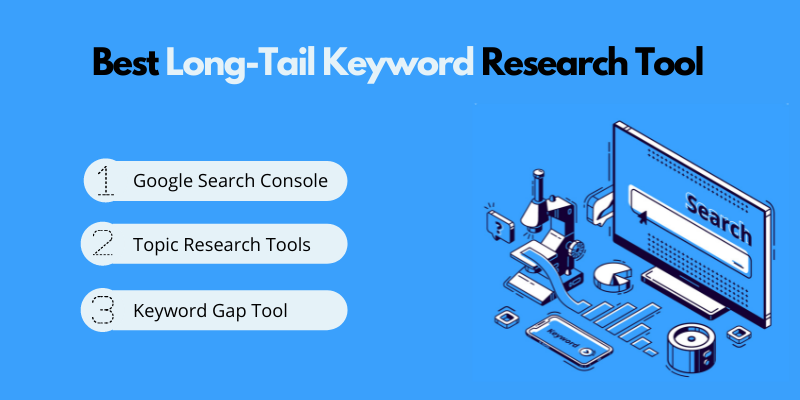 Now that you know the benefits of long-tail keywords and have an idea of how to find them, you need the right tools to start analyzing keywords.
You can use several keyword tool options to find a list of long-tail keywords in your niche.
1) Google Search Console
Great for idea creation and data as it pertains to your site. Why not track keywords that are already driving traffic to your domain? Compare the number of impressions for each term to the industry search volume listed in the SEO tool. You can uncover hidden opportunities to create more content on unknown topics that already have traction with your audience.
2) Topic Research Tools
With the topic research tool, you can perform a long tail keyword search, and the tool will return a collection of related topics and information in a variety of formats. You can use the information here to get SEO long-tail keywords ideas.
3) Keyword Gap Tool
With this tool, you can add your domain and enter up to four competitors at once. The tool will show you the keywords for which you both rank and what SERP position they are in.
Get Started on Your Long-Tail Keyword Research
Keywords may not be everything in the SEO world anymore, but they are still important for good SEO ranking.
If you're not ranking well for the top keywords, switch to longer-tail keywords instead. Once you find keywords that work for you, you can see a lead in rankings (and a related traffic boost).
Looking for long-tail keyword SEO services? Please refer to Get in Touch
How to Choose the Right Long-Tail Keywords