What umbrella strategies and tactics of SEO can help you dominate in the SERPs and earn more revenue in 2022?
It is complicated to answer because Google gradually updates its algorithm. Therefore you need to stay fresh and know about new trends and predictions.
As the whole world will move into 2022, we've covered you with the biggest SEO trends and predictions for the new year 2022.
In this blog, get familiar with the following trends and prepare yourself in the way you do SEO in 2022: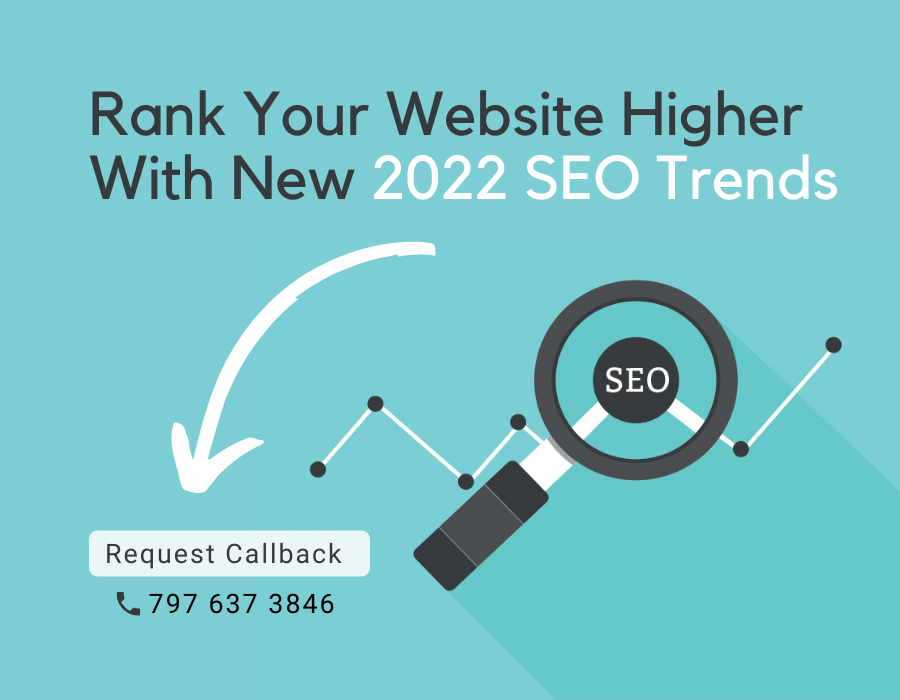 The Five Biggest Search Engine Optimisation (SEO) Trends For 2022 Eve
Digital marketers have already witnessed seo trends for years, and once again now they are ready to exploit those again in 2022, but with some new geeks and major trends updates.
From video marketing and online shopping to conversational queries and more, ahead of this year, businesses across the  globe will revolve around them along with 2022 seo trends and predictions. 
Here is a look at the SEO trends that will have the biggest impact in 2022.
2022 SEO Trend #1. SEO's Artificial Intelligence and Machine Learning
Whether called AI SEO or AI-powered SEO, refers to using Artificial Intelligence to guide search engine optimization of web pages is not a new but the biggest seo trends for 2022.
The heat of AI SEO rises in 2021 since the voice search gained new memento. With the discipline raised in the voice-hearing software like Alexa, Cortana, and Siri along with new ones integrated on devices alludes users unintentionally to perform searches via text-to-speech. In this way, AI SEO helps in showing more relevant results while processing search queries at the deepest level using sophisticated AI and machine learning.
How to use AI SEO for websites is not complicated, with little tweaks of learning and understanding you can earn better ranking organically. 
Additionally, AI SEO powered digital marketers to learn more about their customers including new ones and assist in driving keywords research, SERP analysis, and creating content as per the expectations of your audience journey.
2022 SEO Trend #2. A Switch To Long-Form Content
The second biggest seo trend for 2022 is long-form content creation which should be considered as the topmost strategy for your SEO.
For Google, only quality matters and if you're delivering quality content through your medium it gives you visibility on search engines. You can go for long-form content resources such as long blog posts (with an average words of 1500 and maximum 3000), guides and tutorials, Ebooks and Whitepapers, even podcasts, etc.
If you ask 'Why do you need it for 2022' I would say you don't unless you want to reap its benefits. Here are some benefits of writing long-form content:
Improves the overall web pages ranking.
Increases the readers to engage.
Inflating the engagement and more social shares.
It builds authority for your brand or agency.
It offers more backlink opportunities to build trust in the search engines.
Gives you the ability to create more repurposed content for future posts.
Moreover, writing long-form content may give you a better ranking position than your competitors. Even better, invite more visitors to your web pages.
2022 SEO Trends #3. Mobile-Friendly Content, Web Pages, and More
We have listed this at number three because of its vogue and Google's intentions. Google is always working towards creating and offering credible and simple experiences to users. Hence, mobile-friendliness has been a cornerstone of SEO for years and has been more critical than ever since Google rolled out mobile-first indexing in 2019.
This switch was not a surprise for many SEO geeks because 75% of digital marketing agency have already shown their intentions. If you're among those residing in the leftover of 25 percent, you still do it now because this will continue in 2022. Make your website, content resources pages, and other resources mobile-friendly.
When it comes to mobile-friendly, you can't skip creating content for mobile devices. The truth is that as more internet use comes from mobile devices, you'll need to make sure that your content material is optimized with those users in mind.
2022 SEO Trends #4. Buyer Personas And Google's EAT Principle
Creating a website is not a joke for your business and most importantly for the audience. You created it because you want to do business and audiences are coming to your website because they see something qualitative.
They probably will stay on your website if they see something relevant or content that is worth the quality. In order to ensure creating sustainable quality content, it is critical to draw buyer personas. Buyer personas will help you know the perception and preference of the target audience and so you can be valued lately.
It is also important that you keep EAT in mind when you develop your content. EAT stands for expertise, authoritativeness, and trustworthiness. It is the white-hat SEO principle of Google to determine if a web page provides quality content.
2022 SEO Trends #5. Video Advertising With AI Markups
The final of the search engine optimization (SEO) trends in 2022 that we'll take a look at is video advertising. Over 1/2 of all customers rely upon videos to help them make shopping choices.
Google is rolling out features to help users discover information quicker through videos. In precise, the brand new capabilities of focus are:
Clip markup: Clip markup allows you to spotlight key points of your video so that customers can hop immediately to those components.
Seek markup: Seek markup tells Google how your URL structure works. Google shows the important moments of your video automatically.
And you may already have seen it in YouTube Videos or under the search results of the video section. We arrange a snippet of this feature below.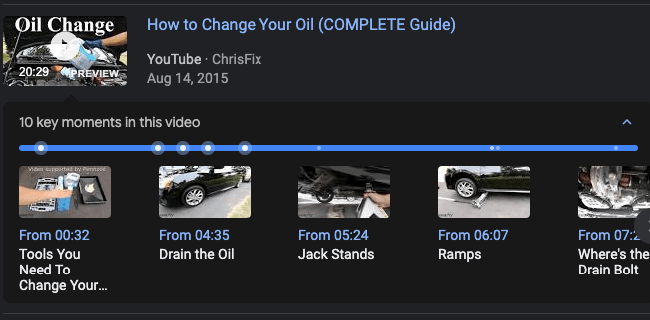 With those two new features, you could optimize your videos to see in search effects for greater relevant and competitive phrases.
Also Read: 5 Recent (Hot!) Google Ads Updates
2022 SEO Predictions: 2 Predictions For The Future of SEO
We can not tell what exactly will happen in the future, but we can predict the things by provisioning the current times which might happen in the near future.
So, here we disclose two fragile SEO predictions for 2022 that you'll want to think about as you develop your strategy:
2022 SEO prediction #1: Pre-Crawling of the Relevant Search Term
One of the 2022 SEO predictions we have is a focus on crawling of the relevant search term in advance. As of now, a very few marketer is known of this new 2022 seo trends and predictions.
Let's discuss what it is. Pre-crawling of the relevant key phrases of the search term means that Google will show quick information of the relevant search term without taking extra time on loading. As crawling is made in advance, searchers will get faster information of the input in less than a second.
For example, suppose you're searching the term 'importance of shivling' and press enter. The search engine will show the relevant information. But, in case you search for more from the search bar. At the moment, you press 'Space' the search result will show you some relevant multiple queries. And those queries are crawled in advance for faster search results. The moment you press any of them, you will get an instant result.
2022 SEO prediction #2: Answering Complex Queries
Google's aim has continually focused on handing over users the solutions they want. As a result, businesses recognize developing pages that offer the solutions they want.
Google is implementing MUM, a Multitask Unified Model, to assist customers take fewer steps to discover information.
For example, if someone was planning a trip to Florida, they may issue separate queries like:
Best hotels in Orlando
Cheapest flights to Orlando
Discounts on parks in Orlando
Weather for Orlando
Places to visit in Orlando
This data enables the consumer to prepare for their ride, however it calls for multiple, separate queries.
For a solution, Google will use MUM, an AI version, to assist in apprehending summary languages and intentions to assist customers locate facts quicker. So, with the example above, Google may want to lessen the number of queries from six to two.
Bonus: 2022 SEO Trends and Predictions Infographic 

Conclusion: Marry Your Digital Strategies With Top 2022 SEO Trends 
After a few days, we'll be in 2022 which means new strategies, new ideas, new logics, and with new hopes.
If you've ever come across that you need new seo strategies, you can look at these 2022 seo trends and predictions for good results. However, newer trends may help you attain proposed results as SEO evolves quickly and greatly.
If staying up-to-date with the latest SEO trends feels overwhelming, feel free to contact us for tips, advice, and suggestions on how you can best optimize your digital strategy with SEO.
2022 SEO Trends & Predictions + Infographic