They've locked their keys to their vehicle. They lost the additional house key. Or on the other hand, perhaps they broke their main key to the home.
In pretty much every occurrence, when individuals need a locksmith, they need one at this point.
But wait, they don't know about you. Probably they reach out to you online and ask for help.
Does this mean your locksmith business must be present on Google? Absolutely YES…!
This blog covers a detailed guide about local seo for locksmiths and why locksmiths should think about local seo in the present days.
Why Locksmiths Must Invest in Local SEO?
Locksmith services are usually required in the time of emergency or in the situation that no other option is available.
However, the locksmith demand is usually occasional but tends to have a high markup on services. This means the demand is uncommon but returns are good because of low-overhead business.
But this does not mean sitting ideal or waiting for the customer to contact you. Generally, people do searches for 'nearby' locksmith service providers and ask for service delivery.
This means locksmith business owners have to be present online to deliver services to the people searching for 'them' over the internet.
You can offer your services more effectively when ranking your locksmith website or listing your locksmith business online through locksmith local SEO.
What is Local SEO for Locksmith?
Local SEO stands for local search engine optimization is a practice of making the business or brand appear for local searches or Google Map searches. 
Generally, Local seo practices focus on improving local businesses such as locksmith, dental and clinic, food and restaurant service owner ranking on geographical area or "nearby" searches. 
Local SEO for locksmiths means enhancing online presence on local search term or improving locksmith website ranking for local keywords and simultaneously rank higher on Google Maps search results. 
Below is a snippet of local SEO for locksmiths with nearby searches results.
Any business that has a physical address or serves a geographic area can benefit from local SEO.
Hey! That's you…Locksmith Business Owner 🙂 Think of a locksmith SEO company to get started to improve your local business online. 
Popular SEO Keywords for Locksmiths
I've mentioned some popular and most performed keywords that people usually begin searching when a locksmith needs.
| | | |
| --- | --- | --- |
| Locksmith Near Me | 24 Hour Locksmith | 24 Hour Locksmith Near Me |
| Auto Locksmith Near Me | Emergency Locksmith Services | 24 7 Locksmith Services |
| Local Locksmith For Cars | Local Locksmith Services | Locksmith Services Near Me |
| 24 Hour Emergency Locksmith | Mobile Auto Locksmith | Automotive Locksmith Services |
| Commercial Locksmith Services | Residential Locksmith Services | Auto Locksmith Services |
| Home Lockout Service | Local Mobile Locksmith | Lock Repair Services |
| 24 Hour Locksmith Service | 24 Hour Key Service | The Nearest Locksmith |
| Key Locksmith Services | 24 7 Emergency Locksmith | Emergency Locksmith Cost |
| 24 Hour Emergency Locksmith Service | 24 Hour Locksmith For Car | Emergency Lock Service |
| Mobile Locksmith Service | Locksmith Mobile Service | Locksmith Emergency Services |
| Locksmith 24 Hour Service | 24 Hour Mobile Locksmith | 24 Hour Auto Locksmith |
| Mobile Car Locksmith | 24 Hour Lock Out Service | |
Locksmith service providers offer a versatile and different range of locksmiths services including key copying and replacement, high-security lock installation, electronic access installation, safe selection and installation, etc.
The most common type of locksmith services are as follows:
Care lockout services
New lock installation
Car key installation
Lock rekey
Car key extraction
Home lockouts
Broken lock repairs
Jammed key removal
Jammed ignition key extraction
Burglary Repairs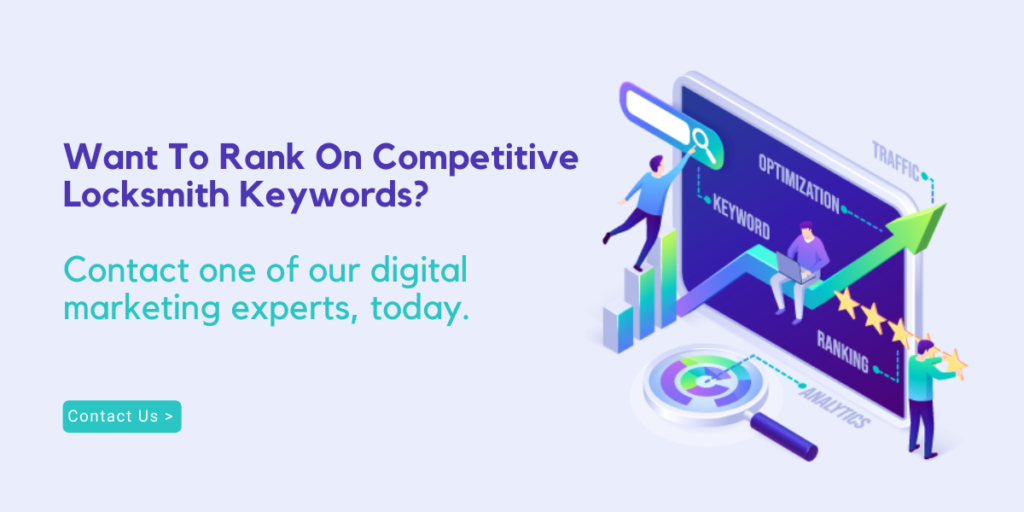 Local SEO for Locksmith: 5 Steps To Rank Higher On Google or Anywhere
Read some tactics to understand how to use local seo effectively to boost your local ranking on search engines. Here are some techniques you can use to see positive results.
Step 1 – Do Clear Keyword Research
Your first step is simple. I've already mentioned popular keywords prevailing in the locksmith industry. However, you can create an AdWords account and use Google's free Keyword Planner.
The tool lets you know the relevant keywords traffic and competitiveness with a view to see which works better and how much traffic they can generate.
At this point in time, you are ready to decide on your final list of keywords into two bases of strategies.
Buying Intent: Make a list of keywords with prospects searching for buying intention. Targeting those keywords will result in good results like immediate exchange of the trade.
Research Intent: The list contains besides the buying intent prospects includes only those who are 'just looking' and may need a locksmith in the future.
Step 2 – Optimize Your Keywords
When you finalised your list of keywords and clear where to target, you are ready to optimize them in two places – your Google My Business page and your website. Here are the keys:
Google My Business
With a profile on Google My Business, you can appear in the "Map" section of Google local listing. Your GMB profile is a portray of your company and increases your overall internet presence. For well GBM profile optimization, consider that your page is fully and accurately with the following.
Verification
NAP (Name, Address, and Phone Number)
Categories as per service offering
Keyword focused description
Working hours
Well designed images
Website Optimization
Other than GMB profile making, you can optimize your website pages including homepage with target focus keywords. Draft a content basis on the distribution of keywords you focus on.
Also, optimize each page's meta title and meta description. This will give a boost to rank well on search engines.
Also Read: How (+ When & Why) to Update Your Google My Business During Covid19
Step 3 – Compile Citations and Links
The next step is to gain authoritative links from another website. Doing this will increase the overall authority of the website and make Google aware of the hard work you put in to earn ranking.
Citations: A citation is simply a listing of your business website NAP (name, address, and phone number) in an online directory.
Links: Get inbound links from high-quality, credible websites to boost your web pages for competitive keywords.
Step 4 – Get Some Good Reviews
Reviews to play an important role for new customers. See, visitors visit your website because they see something relevant to their needs.
Adding reviews on your website give a boost to customer decision and develop trust in your brand.
Step 5 – Timely Measure Your Results
You can only discover the result of your input when your local campaign is being timely monitored and analyzed. Periodically tracking gives you the knowledge and awareness of where you need to do changes if any.
Benefits of Doing Local SEO for Locksmith Service Provider
Local SEO offers many advantages to local businesses. In fact, it is an underrated method to rank higher for local keywords. Here's what local seo for locksmiths offers: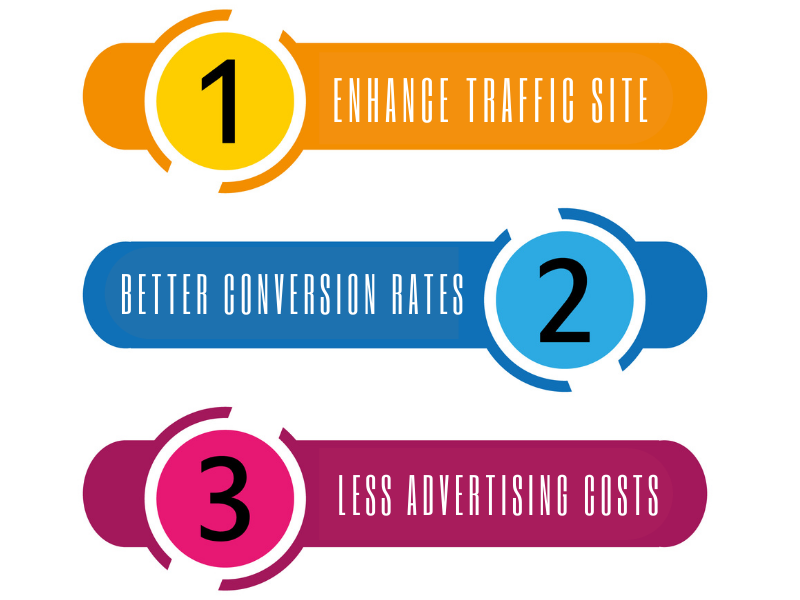 Enhance Traffic: Every website shines on traffic. Local seo allows enhancing your traffic. When you target local potential customers, you're inviting them to visit your website, and if the number is ongoing at peak, it increases the traffic.
Better Conversion Rates: Local SEO drives traffic which results in improving conversion rates. Having a website with good landing pages ensures effective conversion of the returns.
Less Advertising Costs: Putting efforts on local seo means saving from running high ads, pay-per-click campaigns, and enjoying good returns while investing a single buck. However, local seo is required money but compared to other digital marketing channels, it is low.
Do You Have a Locksmith Website? Look At Some SEO Tips for Locksmith Website
SEO for locksmith websites is partially similar to other industry seo subjects. Because the actions remain mostly the same and here are some seo tips for a locksmith website.
Use structured data markup
Create XML Sitemap and submit in Google
Setup Google Search Console
Setup Google Analytics
Develop a mobile-friendly website
Structure your URLs clean and SEO-friendly
Optimize Title tags
Optimize your images
Create/Claim Bing listing
Create/Claim Yelp listing
Get on niche-specific directories
Get on popular social platforms
Submit business in top citations sites
Check competitors' citations and claim listings
Remove duplicate citations
Monitor and respond to reviews regularly
Look to generate more reviews
Remove duplicate content
Update content regularly
Build quality backlinks
Post regularly on Google My Business
For more technical seo tips and quick suggestions, feel free to talk to our expert.
What Extra Locksmith Business Can Do To Rank Better In Online Searches
Well, no other digital medium may offer the advantages and returns which you can get through local seo for a locksmith. I already told you it's the most cost-effective way to rank on a search engine.
However, if you wish to go beyond the dash of local seo, there are many alternatives available. But may they cost you high.
Run PPC Ads
One of the fastest ways locksmiths get found online is by paying for ads with search engines. This kind of model works upon critical decisions and deep research. PPC stands for Pay-Per-Click, is a model of advertising where advertisers pay a sum of money each time one of their ads is clicked.
Consider Social Media Marketing
On the other hand, you may also use social media marketing services to invite new customers and generate business. It allows marketers to reach their prospects in a myriad of ways. You can use Meta, Linkedin, Instagram, and other relevant platforms as per your business complexion.
Think Influencer Marketing 
Influence marketing is a new-age advertising phenomenon used by fortunate brands. This type of marketing involves a brand with celebrities, popular sites, and others that are experts in their field.
Need SEO for Your Locksmith Website? We Can Help You
Have you just entered into the locksmith business? Want to increase traffic on your locksmith website? Looking to target local customers?
Well, we can help you in everything going digital…! At G2S Technology, we specialize in helping locksmiths attract more local customers through Google. If you'd like help with your SEO, contact us for a free quote. 
Locksmith SEO: A Useful Guide To Local SEO For Locksmiths