Disclaimer: Updated for the year 2022 🙂
In 2o22 App Store Optimization isn't just a mobile app ranking strategy, it's more than that. In this blog, I have covered everything you need to know about ASO in 2o22 or say how ASO looks after 2021. The purpose behind writing this blog is to deliver accurate, strategic, and comprehend information to ASO beginners. Let's dive into the world of app store optimization!
What is ASO?
App Store Optimization globally and widely known as ASO is a process of improving app visibility within the app stores and increasing app conversion rates. Ultimately, gaining app visibility is the prime goal and generating revenue is the second objective of any app store optimization company.
Typically, the major app stores are 'Apple App Store' for iOS and 'Google Play Store' for Android.
The overall optimization of mobile applications is done through a brilliant (or effective) app store optimization strategy. The important factor which I believe is the most-crucial is that optimizing for ranking factor for any mobile application.
What is the difference between ASO and SEO?
Perhaps at the first-view, both sounds similar, but there lies a difference often ASO is referred as app store optimization SEO and both the processes share a twik of similarities such as keyword optimization, backlinking and conversion optimization.
The main differences between ASO (App Store Optimization) and SEO (Search Engine Optimization) are the ranking factors. Also, ASO is utilized for mobile apps whereas SEO is for websites.
And you would be surprised to know that SEO has 200+ ranking factors besides ASO have shorter factors to consider.
The comparison table (in the form of image) between ASO and SEO gives you much clear learning: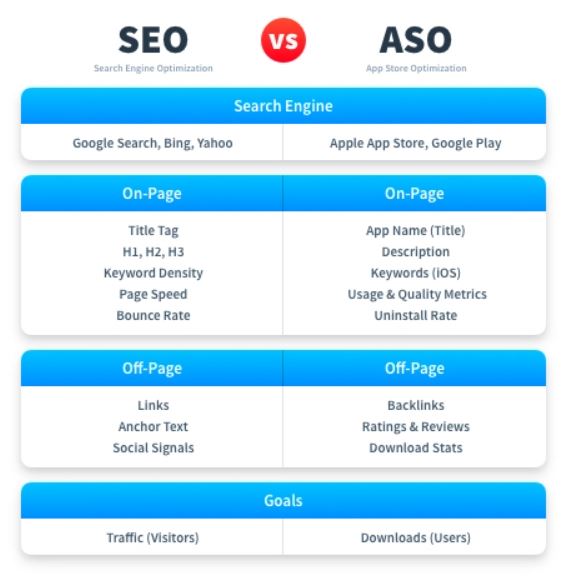 Why App Store Optimization is Important for App Growth?
See, the number of apps listed in the either iOS Store or Android Store, all of them cross through the app store optimization process. At some the ASO implements well, on the other hand, some apps fail to satisfy ASO goals and objectives.
The reason for such a cause is simple, poorer ASO implementation!
Also, there are domains of similar apps presented in the App Store vault i.e. high competition. To crush the competition edge and make your app unique, best, and top from others – you need better ASO services that handle everything.
Look at this….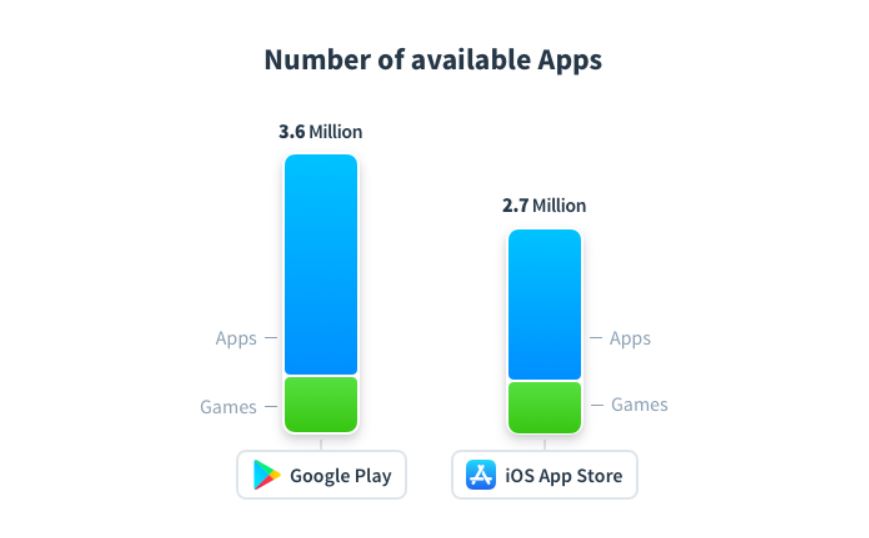 Now understood ! Why ASO is important for app growth.
How do users find and download mobile apps?
If you think the App Store is the only way to find and download mobile apps, then you're wrong.
Often the App Store is the significant choice of a group of entities at first glance, but other than this, users have alternative options as well.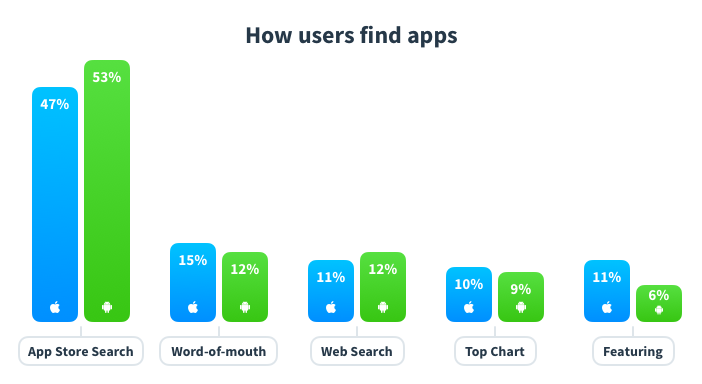 But, those multiple ways are peripheral…!
Talking about how users find and download apps from App Store platforms, well it's pretty simple
Users open the OS favorable App Store vault.
Search for the app either typing or performing voice search (including keyword).
When clicking on search, a list appeared on the screen.
Users scroll the apps to find the correct (search-matching) application. Generally, most of the time, the desired application is at the top of the chart.
Then, the user selects the application and clicks on the install button to initiate the downloading process.
What are the benefits of App Store Optimization?
At first glance, ASO delivers versatile business-oriented advantages to app store owners.
Here is how you can benefit from App Store Optimization:
Enhance visibility & stand out in the app stores
Frequently discovered by high-quality and relevant users
Improve organic app downloads in a sustainable way
Cut User Acquisition Costs and Get Remarkable Growth
Increase app revenue and conversion rates
Reach a global audience with your app

How is App Store Optimization done?
Here's the centered-talk begin!
Now that you know what app store optimization is and how important it is for app growth. To start improving your mobile growth with App Store Optimization – firmly follows the mentioned steps:
1. Establish a clear app store optimization strategy
The initialization of the app store optimization process begins with a clear and definite-winning ASO strategy. In fact, a well driven strategy eliminates any further ASO errors in a gentle way.
Fun Fact! Most App store optimization companies recommend to place keywords in your App Name which is a sign of a good App store optimization strategy.
2. Pick the right name for your app
Giving your app a name could be a complex process, but that isn't so hard either.
Selecting the right name not only describes your application purpose but also helps in ranking factors. In addition, the keywords in the app name have the strongest ranking weight.
Here's the checklist for your app name and title:
relevant to your app
easy to read
100% unique
50 characters long on Google Play
30 characters long the Apple App Store
3. Know how to do keyword research for your mobile app
You heard and understand to place a keyword in your app name/title. Indeed, a keyword is a word or phrase that people use to search for apps in the App Store and Google Play.
Here's some major questions to keep in mind while doing keyword research for ASO:
What are the main features of your app or game?
What are the synonyms describing the features?
What are similar apps called?
What is your app's category?
Which terms do people commonly use in this category?
Here you may take help of App Store Optimization Tools that assist you find your first group of keywords.
4. Write your app description
As your app title plays a vital role in ASO ranking similarly and effective app description for your application is necessary and crucial for the same.
Do you know?
The description of the app is one of the main areas where Google finds the keywords to rank your app for.
Here's the checklist for your app description:
Informative
easy to understand
clearly structured (bullet points, emojis)
includes keywords (especially with Google Play)
up to 4000 characters long
5. Get the right App Icon by A/B testing
May app icon doesn't feel important to you but from the point of view of end-users it acts as a deemster and also helps in the app differentiation.
Due to the high number of apps enumerated it is important to get the right app icon for your application. App icon is what catches a lot of attention and the reasons for the people click on a search result.
A/B testing is a manifest method to achieve the right app icon, it helps choosing the best app icon from the variations and find out which one got the most clicks.
6. Prepare App Screenshots & Videos
Application screenshots and video play offer you a chance to show the usefulness of your application. Use them to flaunt the most amazing aspects of your application.
Truth be told, around half of individuals base their download choice on an early introduction. Therefore, you need to give close consideration to how you plan visuals.
Here's the checklist for your screenshot & video:
Illustrate how your app looks like
Highlight its main features
Tell a visual story
Pay attention to layout & size requirements
7. App Listing and Localization
In the event that you need to take your application or game worldwide, you need to adjust it to be interesting to the objective geo-market. This specific practice is called localization. With this feature, you can improve your application store search perceivability and grow your applications' range.
Clients see an application in their local language as more dependable and accordingly, they're bound to download it.
8. App Ratings & Reviews
Feedback from your users is an integral part of App Store Optimization.
The better your rating, the more important your application is considered by the stores and the higher it positions. Furthermore, 80% of portable users read in any event one survey prior to downloading an application.
Apple App Store & Google Play Store Ranking Factors
ASO is significantly based on the ranking concept, so there are many versatile and potent ranking factors stated below for both Apple and Android App Store.
Apple App Store Ranking Factors:
App Name
App URL
App Subtitle
Keyword field
In-App Purchase
Rating and Reviews
Updates
Downloads and Engagement
Some Hidden factors
Google Play Store Ranking Factors:
App Title
Short Description
Long Description
In-App Purchase
Rating and Reviews
Updates
Downloads and Engagement
Some Hidden factors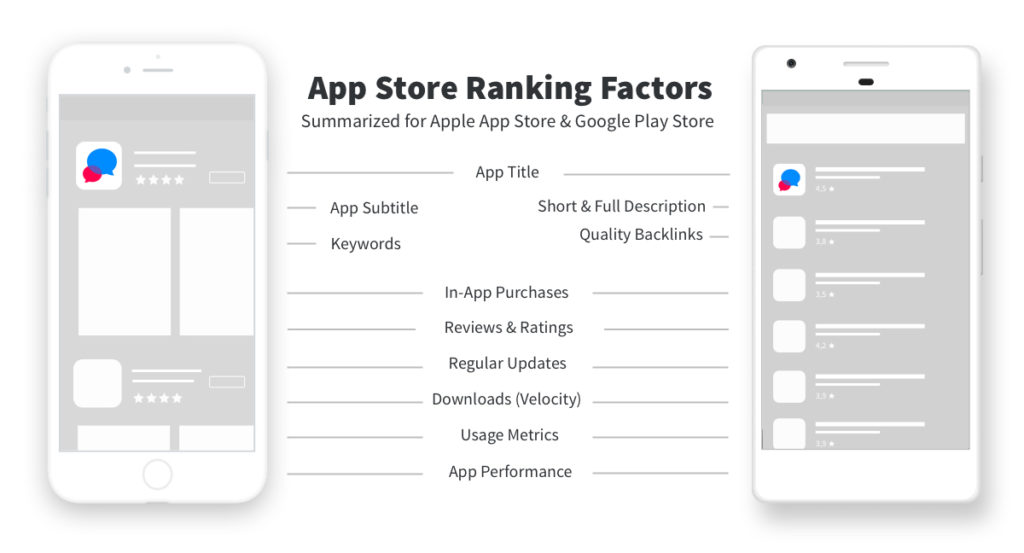 App Store Optimization Tips and Tricks
1. Know What Your Free Keywords Are
There are certain watchwords (keywords) that the application stores consequently give, which implies that you don't need to incorporate them. Consider them free catchphrases. Many people don't realize that the classification name of your application is one of them.
2. Target Mid-or Long Tail Keywords
Rather than utilizing watchwords with extremely high pursuit volume, have a go at including catchphrases that are longer than single words (mid-or long tail keywords). This is essentially on the grounds that high pursuit volume or mainstream catchphrases are more enthusiastically to rank for toward the start.
Common Mistakes To Avoid When Working On ASO in 2022
It is very important to implement every aspect of app store optimization in the right way. But, due to some circumstances most app developers make mistakes and here are those and try to avoid them so making your app or game take off on the stores.
Seeing ASO as SEO for apps
Not studying your app market niche
Not choosing the right fields for your keywords
Not doing A/B tests to find what works best
Focusing on Search only and forgetting about Browse
Seeing ASO as a one-time job
Not monitoring competition
Working without any ASO tool
Not localizing your app store listing
Not following the best ASO experts
Not keeping an eye on the stores' algorithm updates and changes
Best App Performance & App Store Optimization Tools in 2022
In 2o21 app store optimization is way better and way simpler than your imagination. Utilize ASO tools which can help you with your efforts.
Let's take a look at a few of the must haves on the market.
App Radar

: App Radar is an ASO tool for Android and iOS apps. The exclusive eye-blowing strength of this app is that it supports you throughout the whole app store optimization process.
Appsflyer

: It is different from the above one as it is a SDK (Software Development Kit) available for iPhone, Android and Windows Phone apps. Mainly specializing in mobile attribution and marketing analytics.
SplitMetrics

: This app is majestically helpful in the area and focuses on A/B testing and conversion optimization. Its straightforward goal is to optimize screenshots, icons, and other data.
Conclusion: Future of App Store Optimization
It would be not wrong to say that ASO is covered with a brighter and potential future for us and business.
Those traditional businesses who are never or not yet in the market experiencing ASO will lucratively seek to evolve creatively and expand into the ever-growing mobile app space.
This will bring about a developing significance of ASO to prevail upon clients who stay at home and quest for arrangements.
App Store Optimization: Everything You Need To Know About ASO in 2022