Do you know 54.3% of Google's organic search traffic is oriented from the mobile platform? That means people spend more time on their mobile devices, interacting with the Web in different ways. However, there are many differences between mobile and desktop SEOs, including the mechanisms of search engines' work functions.
Mobile Search Engine Optimization is essential to make your content accessible for all mobile device users and increase the effectiveness of your website. User locations, device screen size, and operating system is the impactful factor for mobile SEO. Identify the concept of these differences to improve the possible rankings to grow your business on all devices.  So don't just optimize the search engines on the desktop, target a wide range of mobile users by simply doing mobile SEO.
Read More: 2022 SEO Trends & Predictions + Infographic
What Is Mobile SEO?
Mobile SEO is the process of optimizing a website for search engine queries arising from mobile devices. It is a type of search engine optimization (SEO) technique that enables a website to rank for mobile searches and gain more organic search traffic for your website.
But why mobile optimization is so important.
Importance of Mobile SEO
With many people now searching from mobile devices, Google has started showing the mobile version of websites within search results.
This means that if your website is not optimized for mobile, you may miss out on 50 % or more of organic traffic.
There have been indications that Google prioritizes websites based on their mobile performance, so having a mobile-friendly website is practically a necessity if you want your website to rank higher on search results.
Whether you have a simple portfolio site or an e-commerce site, you need to implement mobile SEO if you want to generate more traffic.
Features of a mobile-optimized site include:
Loads smoothly on smartphones and tablets
fast load time
no mobile pop-up tabs
Well Optimized large font enough to read on small devices
Clear and simple navigation
Well structured, user-friendly UI
fit screen size (no vertical or horizontal scrolling required)
Contact forms can also be filled on the small screen
Call-to-action options are functional and easy to see
Now let's talk about how SEO is different for the mobile platforms –
Is SEO Different For Mobile Devices?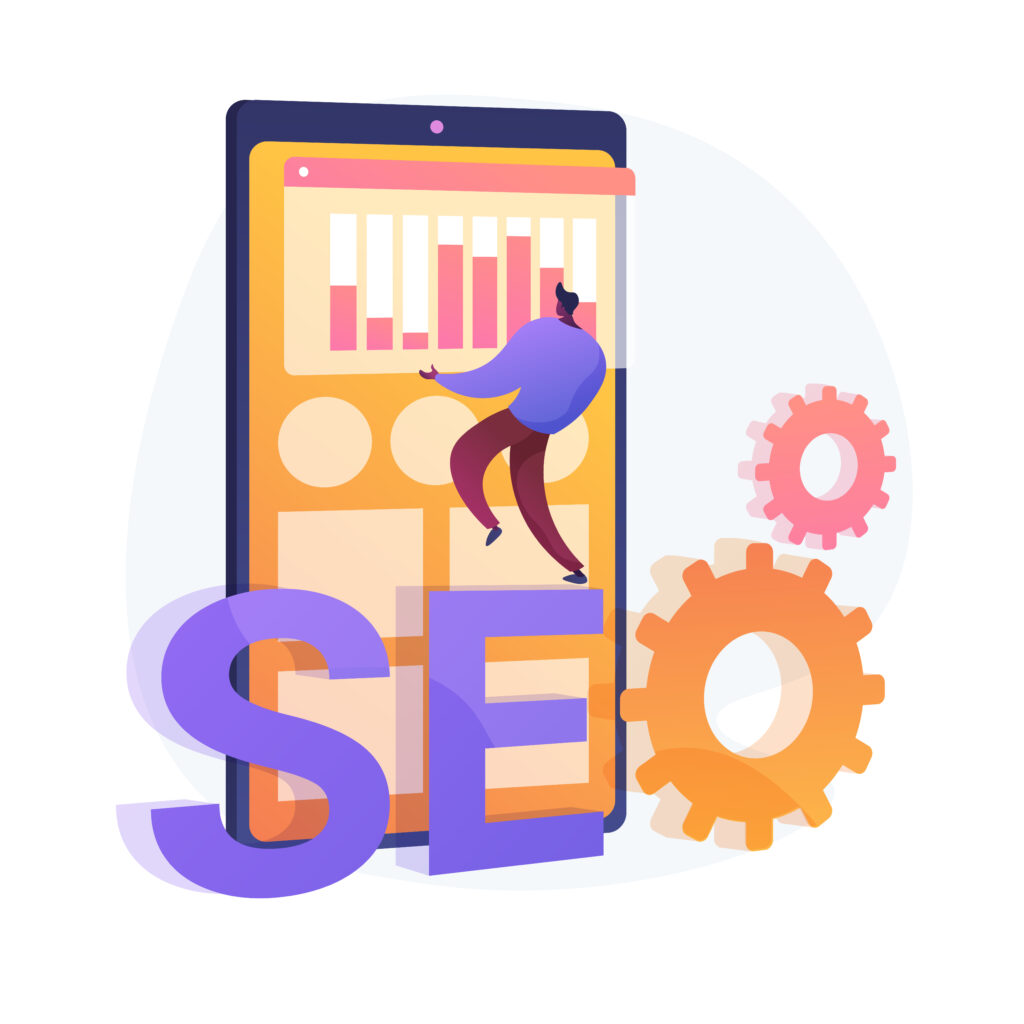 As I mentioned earlier, mobile SEO is influenced by user location, device screen size and operating system factors. 
The mobile SEO optimizing process requires some real SEO practices to boost your website on every platform.
Mobile search results have far more click rates than desktop search results, and the reason behind this is the mobile user percentage is higher.
The role of these variables means quick search engine crawling, indexing and ranking processes differ between devices. Mobile SEO provides a framework to be successful on any device. But first, it's important to know what the difference is in mobile SEO, and how those differences affect search results.
Here is why SEO is different for Mobiles:-
Search Engine Results Pages (SERPs)
What is most different between desktop and mobile SEO is the layout of the search engine result page (SERP). Since mobile phones are smaller than desktop screens, Google doesn't have enough space for 2 columns. This means that anything to the right of a desktop search result will stack above or below organic search results, and fewer results will appear on the first page—this is especially beneficial for paid listings (pay-per-click results).
Location
Today's modern mobile devices have a Global Positioning System (GPS), which provides more accurate location data to search engines than desktop computers. This is a major reason why mobile search results are so much more variable than desktop search results. However, if you have a Google account logged into your mobile and Whee account is also logged into your desktop, then desktop searches will be affected by the physical location of your mobile phone.
Device Operating System
Mobile search results are also affected by the operating system of the device. This is especially correct if Google thinks that the purpose of the query may be app-oriented. In this case, search engines are more likely to show app pack-coloured grids of app icons that link directly to apps in the App Store. Since most apps don't work on desktop, app packs are usually not displayed in desktop results.
Device Screen Size
Google optimizes search results to fit the device you are using to search. This affects how many results are visible on the page. When tablets were introduced to the market, they added more changes to the SERP layout.
Read More: 10 Reasons Why SEO is Important for your Business
Mobile SEO VS Desktop SEO – Similarities and Differences
Do you already have a desktop SEO campaign? Then you don't need to start all over again, as mobile SEO and desktop SEO are similar to each other in many ways.
Content is important either way. It's true what they say- content will always be king. You cannot rank for a target keyword without relevant and useful content.
User experience is another important factor for both. Users should be able to navigate your site and easily find what they need.
Ultimately, performance remains central to both desktop and mobile SEO.
Between similarities, there is a wide difference between desktop SEO and mobile SEO—and that is audience attention.
Desktop SEO focuses on the general public, usually, with no geographical focus, it doesn't focus on a particular location.
On the other hand, mobile SEO usually focuses on local search as most mobile users are looking for local results. Google knows where the mobile user is looking when they search.
G2S Technologies Explains Mobile Search Engine Optimization (Mobile SEO)
Mobile SEO primarily enables a website to appear according to mobile-device-based search engine results. Typically, mobile SEO focuses only on on-page optimization techniques to improve website mobile searchability.
Mobile SEO requires a website to follow a responsive web design. This means that regardless of device (desktop or mobile), the website should serve up the same URL and HTML. However, the images must be optimized to fit the screen size of the device. In addition, Search Engine Optimization Company also focuses on improving website speed, content visibility without manual sizing, and easy navigation for mobile users.
What is mobile SEO and how does it differ from desktop?