In this blog, you will learn;
How to do app marketing before launching your app
How to do app marketing after launching your app
Complete guide on google play store marketing
Whether you are launching a mobile game on Google Play Store or an entertainment application for users to download, here's the best Google play marketing advice for app developers to make it successful – without failing! 
The google play store marketing is important for any app, without it no app can survive and may potentially lose a huge number of conversions.
Marketing your app on Google Store is an art and at some moment you would require math to solve facts.
Reading the guide makes you master in google play app marketing.
The guide is divided into two category: 
Before launching your app
After launching your app 
Let's know everything that an app developer should know about Google store marketing.
A. Google Play App Marketing: Before Launching Your App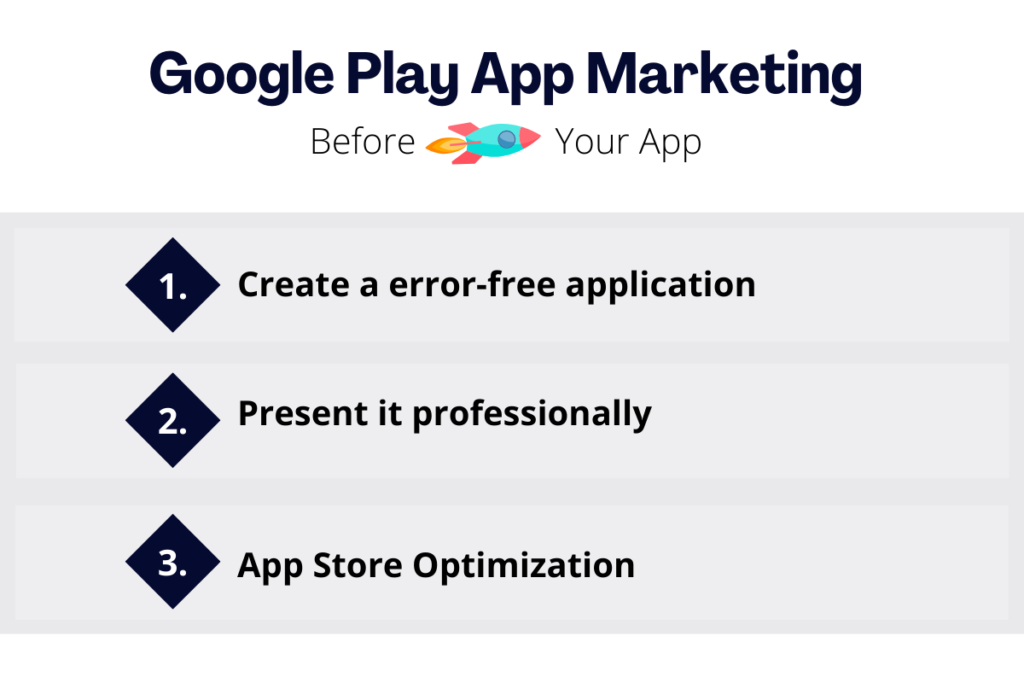 Several key factors indulge and should be followed in manner before deploying your app on Google Store market.
1. Create a error-free application
Creating an error-free mobile app goes with a slew of decisions. Your app should be properly tested and free from any snag or technical error.
Also put great consideration on good design and friendly user interface with clear objective and purpose.
2. Present it professionally
After creating the best possible application, present it like a master. Give consideration to the following things for better results.
App name: Your app name should be easy to read and sound relevant to your niche. App names should be memorable and shouldn't be hard to remember by users.
Icon and screenshot: Design high-quality icon and supportive screenshot to educate users what app will offer to them. Create a story-line screenshot for engagement, if possible.
Add keywords: Apart from icon and screenshot, app description also plays a major role in app marketing and ranking on Google Play Store. Add relevant keywords on app title and app description.
3. App Store Optimization (ASO)
App store optimization is an important factor for app success in Google app store. It is a tactic that enhances mobile app ranking within the app store. 
Approaching ASO for your mobile app provides:
Greater visibility on the targeted keywords
Improve organic app downloads
Increase app revenue and conversion rates
Also Read: How To Do App Store Optimization?
[BONUS] Do Market Research With Google
Research is crucial… it let you know those things that you never imagined could possibly exist.
As you want to market your app on Google Play Store, here I've collected some best resources that help in this journey.
Google search and related searches 
More than 4 billion searches occurred worldwide on Google search engine. You can use this opportunity in your Google store marketing. 
Use google's suggested and related key terms in your app description to rank better on those search terms.
Use adwords keyword tool
Google Adwords tool is incredible, it lets you know the traffic and region sources of keywords you enter – and more. You can plan better keyword terminology for your app marketing.
Use short and long tail keywords in your android app marketing. 
Use Google Trends and Google Alerts
Google trends is a great resource for app developers to know about trending things related to the application.
Enter key terms that you want to set alerts for and Google will directly send trending topics to your mail address.
You can create webinars or do content marketing on those topics to bring traffic to your application on Google store.
B. Google Play App Marketing: After Launching Your App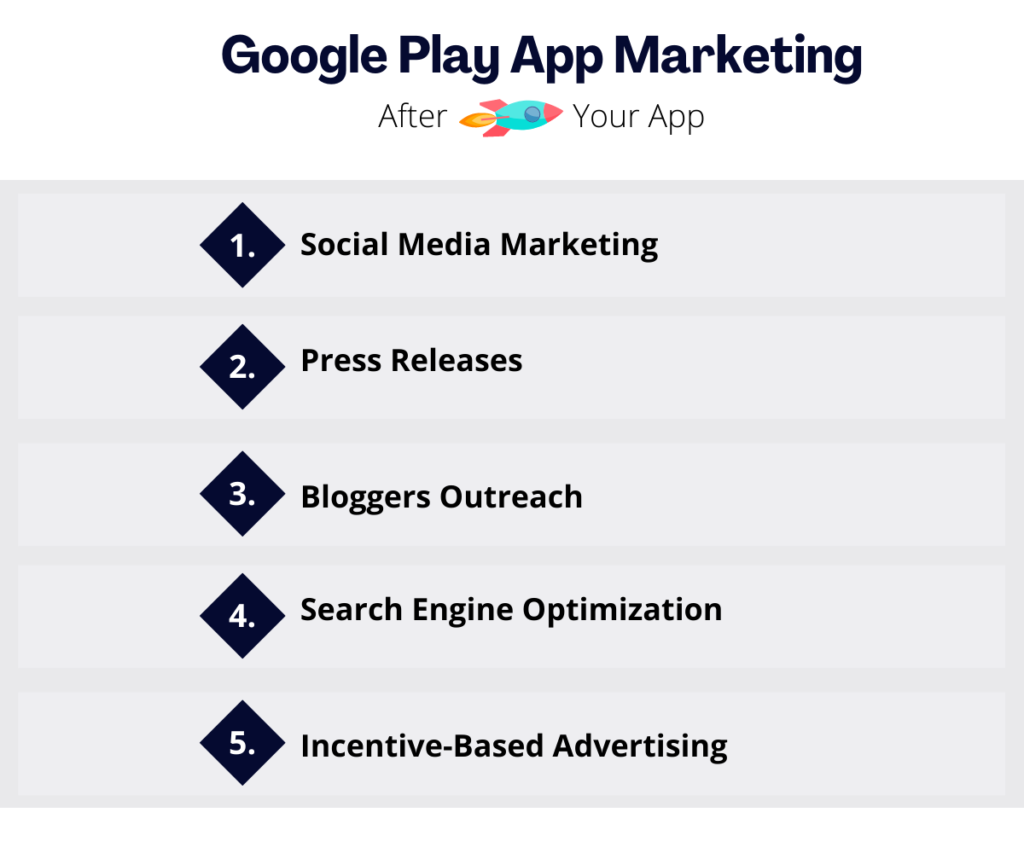 It's the fun part…
I recommend you to use all the mediums mentioned below to see greater results in app marketing practices.
1. Social Media Marketing
Create awareness and buzz of your application launch on your social platforms. Use Facebook, Instagram, Twitter, and other best social media platforms for a perfect shot.
Frequently share something related to your app to create engagement and stay connected with users.
You can share how-to guides, best of best advice, troubleshooting steps, new announcements, etc. You can also shoot live video and meme-based graphics for engagement.
2. Press Releases
Do Press Releases (PR) for your android app marketing. It works as news and more and more people will be aware of your application.
Create informed PR with links mentioned to your website and app to boost conversion.
3. Bloggers Outreach
Connect with high-authority bloggers as it helps app developers to gain higher traffic to the app market or where you want to send them.
The more you connect with content makers to your niche, the higher authority you gain along with the app's conversion rate.
4. Search Engine Optimization
You may have heard of it already…
Search Engine Optimization (SEO) is great to get organic traffic to your app marketing practices. It gives a higher ranking to your website on search engines.
The higher you reach on the SERP, the more organic traffic you build. You can hire a search engine optimization company to handle this work of operation. 
5. Incentive-Based Advertising
Incentive-based promotion is many of the nice methods to get an immediate enhancement for your app's downloads.
Incentive-based advertising is the motion of offering rewards to users, commonly in the form of competitions, present playing cards, giveaways or loyalty points, amongst others.
[BONUS] Useful Google Play Store Marketing Resources
To complete this guide, I've illustrated the best and useful android app marketing resources for app developers or anyone who wants to promote apps on Google play store.
App Store Optimization (ASO)
Google Ads for Universal App Campaigns
Google Adwords for easy advertising
That's all in this blog.
I hope this blog helps you in every possible way.
If you have any thoughts on Google Play Store Marketing, let me know in the comment section.
How To Do Google Play Store Marketing? Before and After Launching An App + BONUS Tips!