Are you a local business owner in your town? And having a website presence to cater local audiences online. You should use local business schema techniques to increase visibility (of both) – website and business. 
Since Google gradually monitors your website pages using its bots and algorithm criteria, developing your web pages based on Google's convenience is important.
If you think content and good looking UI design is the only reason for getting good ranking on SERPs – then you are wrong.
Various local seo ranking factors affect your site ranking on search engines. 
And, most importantly, your "type of schema".
Learn in this blog about local business schema and how local businesses (you) can leverage it better to gain more visibility online.
What Is The Local Business Schema?
Local Business Schema is an HTML code or you can say it as a kind of structured data markup code that can be added to your business' website. 
It is important because this makes it easier for Google's machine workforce to easily identify the type of business you are and the product and service you provide.
Adding local business schema to your website is easy and a step by step guide on how to add local schema is also mentioned.
But before diving into that, take a look at local business schema examples.
The example is in reference to a restaurant called GreatFood.
[Note: Reference pulled from schema.org portal]
GreatFood Local Business Schema Example Without Markup

The above example represents GreatFood business information with no markup.
Now, in the below example, you will see this information represented in the schema code. This type of schema microdata format is easier to implement.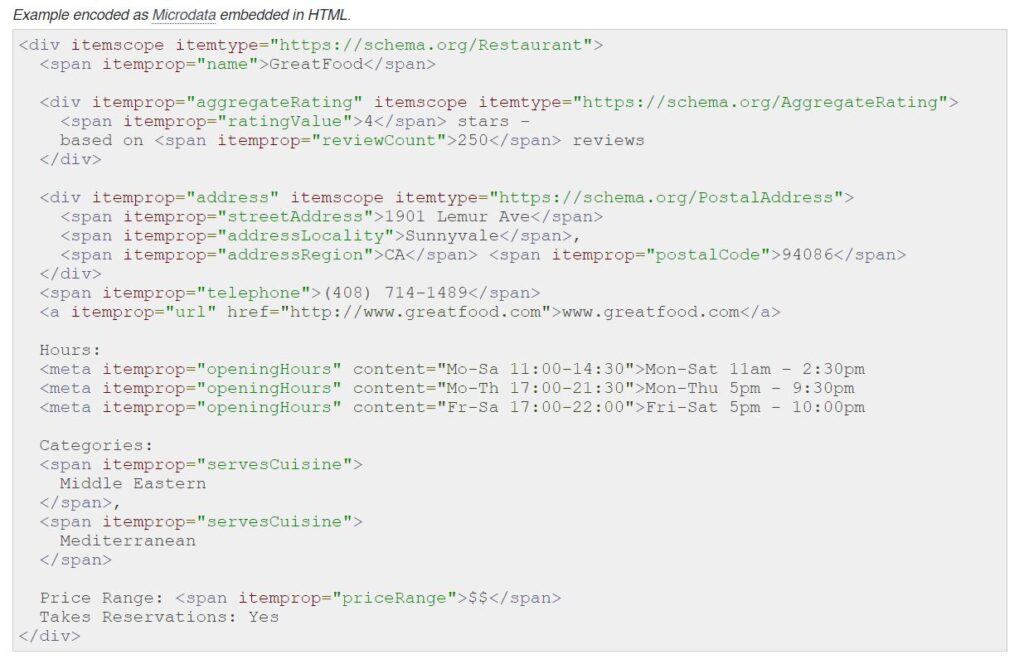 The below example is in JSON-LD format which would be used for JavaScript.
Finally, the schema structure will be presentable like this.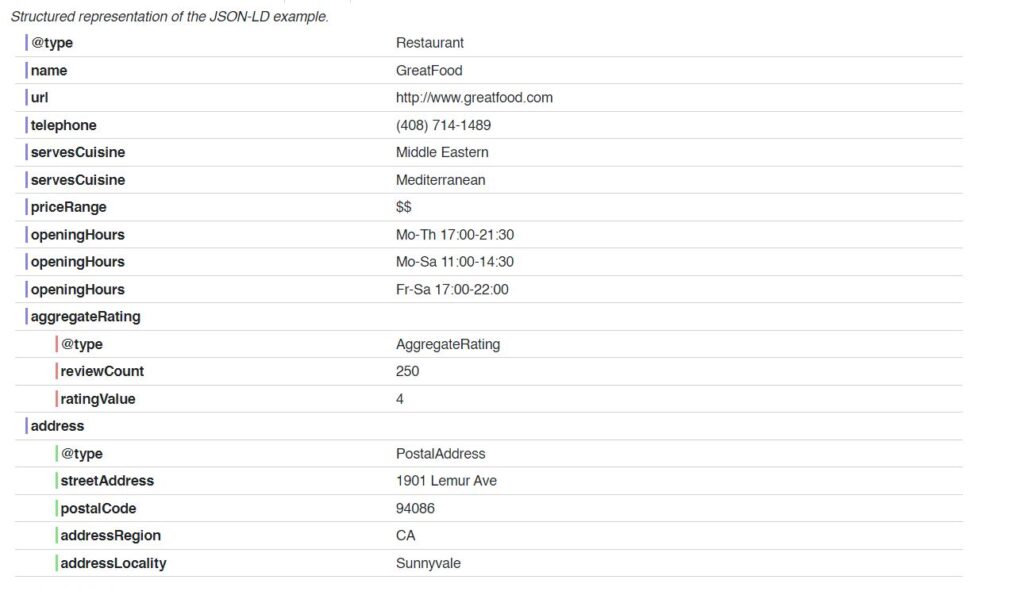 How to Add Local Business Schema?
Learn how local business owners can implement local business schema on websites as per their niche.
Step 1 – Visit Schema.org Portal
Schema.org is a collaborative community working with a mission to create, maintain, and promote schemas for structured data on the Internet.
To begin with the process, go to https://schema.org/LocalBusiness and choose your local business niche category. 
Upon choosing a specific niche category, the schema.org provides you schema code with examples. There, choose your specific type.
Step 2 – Create About Us Page Logically
The About us page informs people about your business and services with a vision of establishment and mission for change.
Therefore, your about us page should be filled with from basic to necessary details about your business and include a unique "AboutPage" schema item.
Step 3 – Test Your Code Using Validator
You can use Schema Markup Validator to test your schema code snippet for success or errors. 
Select "Code Snippet" and paste your code. Click on "Run Test" to validate your schema code.
Step 4 – Add and Publish Your Local Business Schema to Your Website.
After ensuring that your test run is successful, you can now add your schema directly with your HTML code. To help you, you can contact a local seo company to add, analyze, and update schema on your website.
Step 5 – Crawl Local Business Schema Markup
It's almost done.
Use Google Search Console to crawl your local business schema markup.
Upon successful crawling, you will see green tick icon and caption with "submitted and indexed"
On the off chance, the search console provides you with the specific error details if any. Fix it and validate it again.
And it's done 🙂
You learn how to add local business schema. Need more info or have any query, talk to our expert for an instant solution. 
How Local Business Schema Can Boost Your Company's Visibility Online