Advertising on Facebook (Meta) is a great strategy to see positive results. Funnel marketing, Psychographic Targeting, and Competitor Targeting are no longer serious matter when advertising on Facebook with around 7 million advertisers active on the platform, worldwide.
As Facebook offers precise advertising models for each type of Facebook ads campaign, the advertisement becomes easier with detailed insights and analysis.
The Facebook advertising costs directly depend on the kinds of bidding the advertiser opt-for, like cost-per-click (CPC) or cost-per-thousand-impressions (CPM) – even there are more.
However, the ideal and most common type of facebook bid-model is Cost-Per-Click (CPC) which is affordable than other forms of ad type.
You are thinking about promoting your company on Facebook. And probably have a question: How much does Facebook advertising cost?
In this blog, we'll do the math and uncover the filio to know the exact Facebook ads costs in detail.
What Makes Facebook Ads Worth The Price?
Why advertising on Facebook? Is it better than Linkedin, Instagram, and Twitter? What exactly does it offer to the advertisers?
Well, advertising on social media is fun as well as brainstorming! However, you need to do research before running ads on any platform.
Talking about Facebook, in general, it offers seamless benefits but let's take a look at some money-saving advantages Facebook has over other platforms.
Facebook is still the most popular
According to the Statista, the statistics of Oct 2022 reports that Facebook currently ranks as the largest and most active social media platform in the world with 2.8 millions of active users.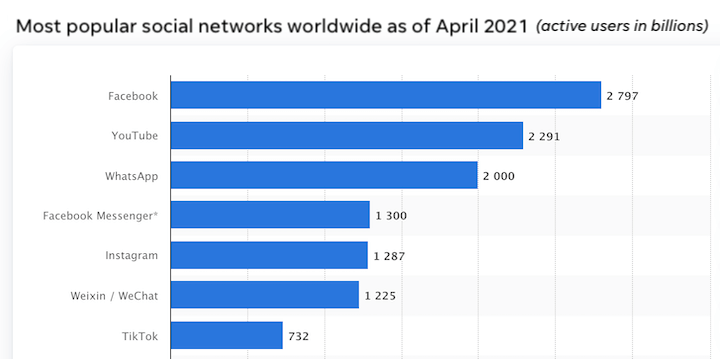 ….and the most widely used
Precise targeting
Precise targeting means fewered Facebook ad costs.
Facebook gives the ability to the advertisers to run ads based on precise targeting advantages. If you want to target an audience in a 12-mile radius of a particular address or zip code, it can easily be done. If you want to reach parents with children 6-7 years old who love ice cream, you can do that too.
Affordability/Flexibility with budgeting
Facebook has the option called 'Budget-Range' which helps you to settle into your falling budget for ad campaigns. The budgeting concept is especially designed for small business owners. Hence, offer flexibility to run ads on optimum investment.
Besides, Facebook ads are among the most cost-effective ad types for any business. We did a comparison between Facebook and other social platforms on the basis of CPC average costs. The results are impressive…
Twitter: $0.38
Facebook: $0.97
Instagram: $3.56
LinkedIn: $5.26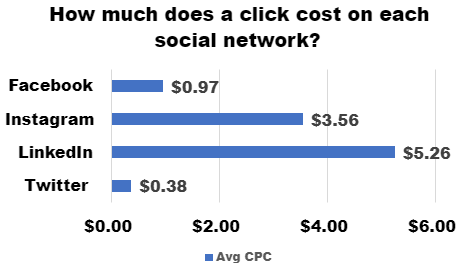 From the above, you can see that Twitter CPC is lower than others but it fails to offer compelling features as Facebook offers to its users. Thus Facebook ads are affordable and flexible to use for any type of business promotion.
How Much Do Facebook Ads Cost In 2022?
To know the facebook ads cost in 2022, you must first know about facebook ads algorithm. 
Facebook ads cost algorithm work on the basis of campaign objectives set by the advertisers. The selective campaign arena shows the particular interest of the advertiser that they want to achieve by running that particular ad campaign.
It could be of anything mentioned below:
First, Cost Per Click (CPC)
Second, Cost Per Thousand Impression (CPM)
Third, Cost Per Engagement (CPE); it includes likes, share, and comments
Lastly, Cost Per Download (CPA); particularly used for app installs and app promotion
G2S Technology Team of digital marketers deeply analysed the Facebook Ads Tools and looked into the passed run ads data. From that study, we've mentioned our opinion on – How Much Do Facebook Ads Cost in 2022? 
The answer is…
Facebook advertising costs, on average, $0.97 (INR 72.10) per click and $7.19 (INR 534.41) per 1000 impressions. Ad campaigns concentrated on earning likes or app downloads can expect to wage $1.07 (INR 79.53) per like and $5.47 (406.57) per download, on average.
Note* Assuming that 1 United States Dollar equals 74.33 Indian Rupee
[Summary] Facebook ads cost
For a handy breakdown of Facebook advertising costs, check out this table:
| | |
| --- | --- |
| BIDDING MODEL | AVERAGE FACEBOOK ADS COST |
| Cost-per-click (CPC) | $0.97 |
| Cost-per-thousand-impressions (CPM) | $7.19 |
| Cost-per-like (CPL) | $1.07 |
| Cost-per-download (CPA) | $5.47 |
The Facebook advertising cost fluctuates and varies from industry to industry. However, they mostly remain close to the average fall of ads costs mentioned above in the table, but there are certain factors that influence the costs.
Let's take a look at the factors…!
Factors That Influence The Cost of Facebook Ads
Just like Instagram ads costs, Facebook ad costs are influenced by a number of variables.
1. Campaign objectives
Advertisers' campaigns deeply rectify the ads costs as they relate to the value of the desired goal. The kind of campaign objective they set, the facebook shows the ad costs value, accordingly, however, anticipating some other factors as well.
2. Audience size
Facebook advertisements targeting a large and broader scale of audiences will generally value less than for smaller audiences. It happens because of the flexible budgeting that Facebook offers to the advertiser community to run ads efficiently and reach maximum prospects.
3. Daily budget
Another big contribution in determining Facebook ads costs is how often you use your daily budget. Your daily budget determines the further or new ads costs metrics. If your advertisements are properly engaged with, Facebook and Instagram will praise you with lower costs over time.
4. Click-through rate
Click-via fee (CTR) also can play a role in your Facebook ad expenses. If CTR is low, specifically in a website site visitors marketing campaign, you may then see higher costs as Facebook is aware that there may be some disconnect between your target market and the messaging on your commercials.
5. Seasonality
Seasonal events also hands down in driving facebook ads costs. Competition ramps up as brands increase their budgets and gain more impression share, as a result, increasing charges for all advertising and marketing brands. However, Facebook smart features assist you with the best type of ad campaign suits in seasonality.
Also Read: 6 easy steps to start advertising on Instagram
Bonus! Facebook Advertising Costs As Per Industry
What your business industry is in also affects the average facebook ads costs. You could see this as an external factor responsible for ad costs variation.
While the average cost of facebook advertisement is $0.97, you can gain more insights about facebook ads costs by looking at average value of ads costs for your industry.
Find out how much Facebook ads cost in your industry below:
| | |
| --- | --- |
| INDUSTRY | AVERAGE CPC |
| Apparel | $0.45 |
| Auto | $2.24 |
| B2B | $2.52 |
| Beauty | $1.81 |
| Consumer Services | $3.08 |
| Education | $1.06 |
| Employment and Job Training | $2.72 |
| Finance and Insurance | $3.77 |
| Fitness | $1.90 |
| Home Improvement | $2.93 |
| Healthcare | $1.32 |
| Industrial services | $2.14 |
| Legal | $1.32 |
| Real Estate | $1.81 |
| Retail | $0.70 |
| Technology | $1.27 |
| Travel and Hospitality | $0.63 |
Depending on your enterprise, Facebook advertising can offer a fee-powerful option for building brand cognizance, generating leads, driving conversions, and more. Even if you're in a competitive market, like client services, you could benefit from a social media approach.
FAQs for Facebook Advertising Costs
How much does Facebook advertising cost for impressions?
If your ad campaign focuses on impressions, the average price of Facebook advertising is $7.19. This amount refers back to the fee according to thousand impressions (CPM).
How much does Facebook advertising cost for likes?
If your enterprise's ad marketing campaign makes a speciality of incomes like to your page, the average cost of Facebook advertising and marketing is $1.07 in keeping with like.
How much does Facebook advertising cost for app installs?
If your ad campaign specializes in downloads or app installs, the common value of Facebook marketing is $5.47 in step with download.
---
Summary: How Much Do Facebook Ads Cost in 2022?
Let's recall what you have learned so far! Facebook ads cost can vary densely, you have different set of ads cost based on objective. You can select the type of ad you want to run as per business demanding of any size. But it's reasonable to expect that Facebook advertising costs around $0.97 (INR 72.10) per click and $7.19 (INR 534.41) per 1000 impressions.
Remember, there are five key factors that influence your Facebook ads cost:
Campaign objectives
Audience size
Daily budget
Click-through rate
Seasonality
To reduce your Facebook advertising costs, you can:
Split test
Keep your ads fresh
Use retargeting and remarketing
Focus on one objective at a time
That's all in this blog…! Thanks for reading.
---
Ready to Start or Improve your Facebook Advertising?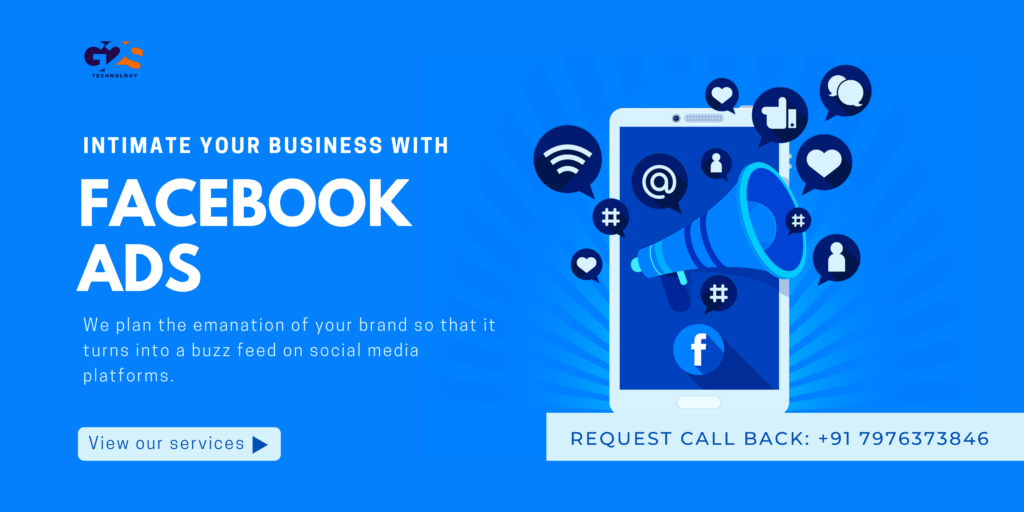 Partner with G2S Technology, an specialised digital marketing agency that offers social media management and social media advertising services at an affordable price.
The benefits of partnering with us:
Increase awareness of a brand, products, and services
Build relationships with current and potential customers
Encourage conversions, sales, and revenue growth and more!
Let's Talk: WhatsApp on +91 7976373846 or contact us online.
How Much Do Facebook Ads Cost in 2022?