There has been a perceived development in the CBD industry in recent years, particularly in the US and Canada. As a result of medical marijuana's legalization and the increasing trust in CBD substances, CBD began gaining popularity in other countries as well. You should know which products are legal in a particular country, and whether you can promote them. Here's whether it's worth the effort to do SEO for Cannabis and CBD Companies.
How does Cannabis SEO Marketing work?
By optimizing your website with comprehensive industry-related content and building a backlink strategy aligned with the best practices laid out by popular search engines such as Google and Bing, cannabis or CBD marketing through search engine optimization (SEO) is a hybrid approach to marketing.
With dispensary SEO, you can optimize the search queries relevant to your business by revealing the black box that is dispensary SEO. Consequently, interested browsers will see your website on search engine result pages (SERPs). Ranking higher for relevant keywords will increase your website's visibility. Increasing organic traffic to your website will increase sales, orders, newsletter subscriptions, and other interactions with your website (e.g. downloads, phone calls, and form submissions).
Cannabis online markets that sell cannabis products, offer cannabis SEO services, or have a contact form on their websites can benefit from optimizing their websites to drive qualified traffic. Any business that does not leverage SEO will be at a huge disadvantage, as they will miss out on conversions to customers due to the number of companies already doing this.
Why SEO is Crucial for Cannabis Brand Success
As a result of marijuana's long-awaited legalization, an eCommerce market has grown competitive. As more states legalize cannabis, this industry will only become more lucrative.
The legalization of cannabis in June 2018 will undoubtedly have ripple effects south of the border as well.
By 2027, marijuana consumption is expected to reach $47.3 billion in North America.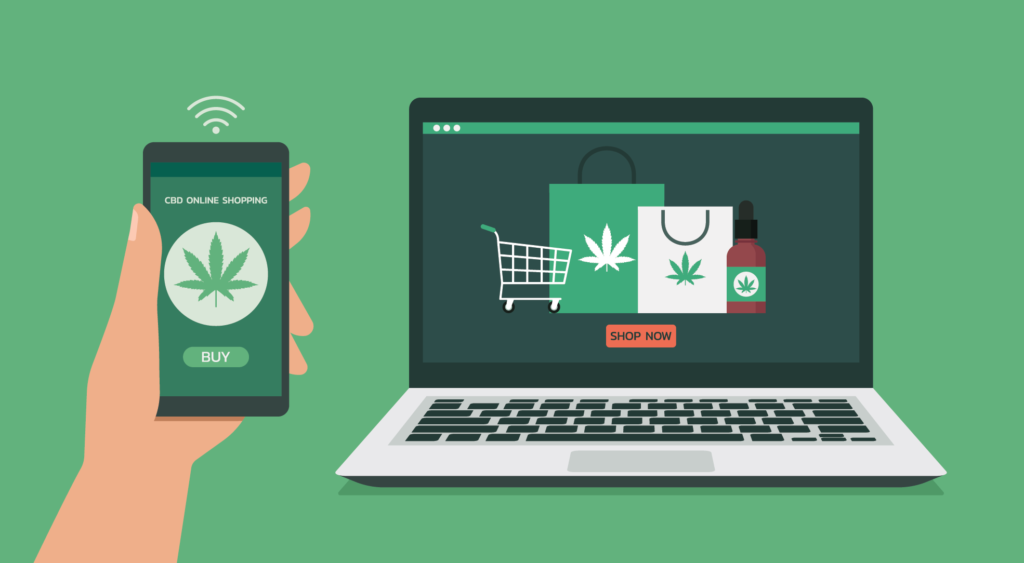 When creating an SEO strategy for CBD, what should you consider?
Make sure your platform and hosting terms and conditions are up to date
Consider the providers whose terms & conditions allow publishing such content if your company has room to grow in that area. The same goes for payment providers, who might have their own requirements when it comes to cannabis-oriented businesses.
Become familiar with the opportunities offered by SEO
By doing detailed keyword research, you'll be able to see what people search for the most, and what phrases they type into Google. It's actually an advantage to be aware of that. As a result, you will have a lot more opportunities, such as using the most searched keywords on your website and increasing its visibility.
Make sure your keywords are relevant
Researching keywords and measuring keyword rankings are important. It's important to take the following factors into account when choosing keywords for your site to optimize for:
Changes in average monthly searches and trends over time,
If a given keyword matches a service or product, then the search is for that purpose.
Website domains and authority,
Keyword complexity and difficulty.
Ahrefs, Senuto, Semstorm, etc., are dedicated tools for keyword analysis.
Publish supporting articles on your blog
Is SEO a viable option for the cannabis industry? Educating your customers while linking internally to your main product is easy when you write valuable content. For example, you could write an article on how to prepare a cannabis infusion if you sell CBD products. Rather than selling products, we will provide DIY solutions to both our target audience and those who prefer to do it themselves.
To make your topic more understandable, you should write at least 3-5 supporting articles related to the keyword category. As a result, you will be able to create your own content pillar and make your texts more relevant. Additionally, it will serve as a good backup for external links.
Write content that is SEO-friendly
You'll be able to create well-optimized texts for Search Engine Optimization by creating unique product descriptions and maintaining a blog on the subject, based on:
Keywords carefully chosen,
Insights that are relevant,
Content that is unique.
Update your website's content regularly
Can cannabis websites be optimized for search engines? Keeping up with cannabis market updates and improving your website accordingly is essential to staying competitive. Furthermore, visitors often check when the website was updated to get the most up-to-date information. One of our previous blog posts discussed the importance of content updates: To Update or Not to Update – What to Do with Old Content?
Conclusion: Cannabis SEO
Discover CBD SEO service. A lot of income has been generated by the cannabis business over the past few years. As companies build trust over time, they'll eventually become opinion-makers in the industry, so now is the perfect time to focus on SEO. Among the SEO-related activities you should be paying attention to right now are:
Make sure your platform and hosting terms and conditions are up to date
Understanding SEO's opportunities
Selecting the right keywords
Publishing supporting articles on a blog
Creating content that is SEO-friendly
Keeping your website's content up-to-date
We are committed to your success at G2S Technology a cannabis SEO agency
Cannabis SEO company G2S Technology provides Cannabis SEO Services
to brands and accessory retailers. This industry's clients outperform their competitors and have a loyal customer base.
In Featured Customers, we have 1200 reviews with a 4.7-star rating, on Facebook, we have 70+ reviews with a 4.8-star rating, and on Google, we have 110+ reviews with a 4.7-star rating.
Quick Contact Us : 
Call/WhatsApp: 7976373846
Email: info@g2stechnology.com
Cannabis SEO Company: cannabis and CBD SEO experts