Heard about SEO then you must heard Local SEO as well…!
The practice and principle of local Search Engine Optimization is similar to Ideal SEO. Local SEO is important for small businesses because of regional prospects and customer segmentation.
The optimization of local SEO is done on the basis of location irrespective of workplace. Deeper, local SEO optimize your website and show ranking on local searches of search engines mainly appeared as a form of map [look below].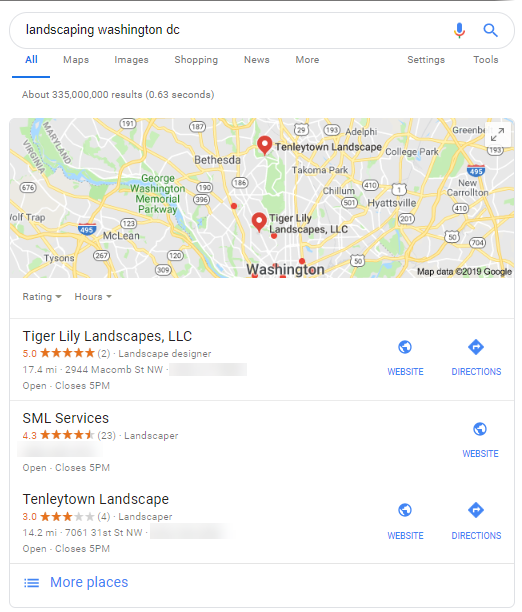 What is Local SEO?
A Local SEO is a little practice of digital marketing which helps SMEs and small enterprises to promote their products and services locally to regional prospects and customers.
There are various signals that local SEO follows and as a consequence offer better results on local searches. Those signals are local content, social profile pages, links, and citations.
10 Tips: How To Optimize Your Local SEO in 2020
However, this is not enough..! Those entitle signals are just the first page of a book.
Have a look at these comprehensive tips for optimizing local SEO in 2020.
1. Optimize for GMB
Google My Business (GMB) is one of the best methods and tools for optimizing local searches for small businesses. Google My Business allows your business to create accounts for free, manage products and services seamlessly, and promote local search results.
Some free suggestion to optimize Google My Business:
Verify your listing
Provide accurate and up-to-date information
Respond sincerely to customer reviews
Include your logo, add hours of operation, show acceptable payment methods and more
2. Optimize HTML Tags
Google and other search engines work on SEO guidelines and principles. One such principle is to use scrub HTML tags such as title tags, headers, meta description, URL, and content. Conduct research on local searches, read meta tags, and descriptions and incorporate them into your HTML tags relative to your brand and business.
3. Add location pages your website
If you have more than one location, business operations say that head office at different places and sales offices at different corner sites. Create location pages with the right keyword approach and provide the reader with your name, address, phone number, store hours, unique store descriptions, parking/transit information, promotions, and testimonials from happy customers.
4. Post Local Content
Creating local content is meant to provide meaning and support to those around you. Focus on what your nearby audience looks for, where they have more interest, what they search on Google. Study well, incorporate ideas, and use keywords and optimize on-page websites with local content posts.
5. Must-have mobile friendly website
Google becomes smarter, with time, it changes itself and flashes new opportunities into the market. From the past three years, development of mobile friendly websites has given new opportunities for business. Surely, increase website traffic, decrease bounce rate, generate more leads. Ensure your website is mobile-friendly.
6. Reckon General Information
Adding general information such as your name, address, and phone number help your customer to know and find your business easily. Optimizing local SEO without these may have to face decreased ranking.
In case, you shifted your location offline, up-to-date online as well, so your customers know where you operate, and can easily walk-in to your store.
7. Optimize online directories and citations
It is crucial to optimize your visibility constantly. If already doing so – it's great but are those high productive. There are many online business directories like Yelp, Foursquare, MapQuest, and YellowPages are names of few that allow you to update your business profile and trust me this improves your visibility on local search in less period of time.
8. Create high-quality links
Building high-quality links is a common principle of SEO that also works for Local SEO. According to the Moz studies in 2017 – "link signals are the first and second most important factor" for local ranking benefits.
Some free suggestion to getting high-eatable backlinks:
Post-high-quality content on your site
Guest blog on reputable sites
Engage with local influencers on social media
9. Optimize Local Keywords
True or False? Local SEO is all dependent on Keywords! Absolutely false…!
But mostly work on regional keywords. Thus it's good to work on only those keywords that are relevant to your community, product, and services you offered.
Finding hard to find right keywords? Try Google Keyword Planner…!
10. Optimize for Voice Search
Voice search is in trend these days. Because of the dawn of technology, technology is adverse to voice and getting smarter. Almost, 60% of searches are now begun with voice search.
Where is shiv temple in Jaipur? How to clean wood furniture online? How to make it online? All these short 'Q' based are done through voice search and it's important to optimize for voice search.
Include long-tail keywords in your content post like blog, article, guest post, etc.
What's Next
In 2020 a lot of things are introducing and thus making competition stronger. Local SEO service is simple, easy, and reliable for small businesses to target regional customers (according to the business goals). These tips will really help you, incorporate these into your actions and wait for a good result.
Good Luck…!
Top 10 Ways to Improve Your Local SEO Right Now