Since the Covid pandemic surfaced on the planet, across the globe, the healthcare and hospitals have proved their dignity, helping the effective patients to their full potential and become heroes for most people.
Healthcare sector has always been special for us, offering reliable health solutions regardless of bargaining anything. But it's important to offer quality medical treatment to all patients, equally.
Today, the healthcare sector has become the most competitive field, and when someone starts a new venture, of course, it is hard to reach new patients.
Healthcare sector is very huge, you will find so many hospitals (privately-owned and government-owned) which provide services on the basis of the nature of the healthcare business.
Some hospitals find it difficult to acquire new patients while aren't this is because of the diversification in the seek of medical requirement.
For instance; Dental laboratories or dental clinics and Clinics for Sleep Disorders have lower in-going patients rates compared to speciality hospitals, general medical and surgical hospitals, and blood and organ banks.
So, what can be done, seriously, to invite more new patients?
Since the healthcare industry faces excessive competition, therefore the majority of hospitals require a strong digital marketing strategy. Using social media platforms not only the doctors, but even the entire hospital can be benefited when considering the right social media marketing strategies – G2S Technology 
How can you build a successful healthcare social media marketing strategy? This blog post entails some highlights covering the value of social media in healthcare and offering tips that you can start using today!
Why Social Platforms Matters To Healthcare?
The world's foremost hospitals such as Mayo Clinic and Massachusetts General Hospital itself believe that social media has become the new word of mouth advertising.
They frequently use social media channels to engage with patients and for sure to discover new patients online.
Having social accounts on gigantic social platforms such as Facebook, Twitter, and Linkedin benefiting the entire healthcare community including sub-level nurses and staff and so professional doctors.
Social media marketing is firmly important for healthcare and hospitals because it helps in a variety of ways –
It provides healthcare professionals with applications to share crucial and trending health information.
Debate health practice issues, communicate with the public and promote primary health care behaviors.
Additionally, it provides opportunities for healthcare practitioners to learn with their colleagues and peers and keep pace with the latest healthcare developments.
Conclusion, there could be more benefits for healthcare using social media marketing. The bars aren't limited to the sky, above it, the scope is wider like a universe landscape.

The Advantages and Disadvantages of Social Media in Healthcare
If your healthcare center associates with Facebook and LinkedIn or with other social media platforms, the healthcare industry is absolutely expanding its niche at a wide spectrum.
Our team of content curators research some facts on the advantages and disadvantages which give an weighted-idea of using social media in healthcare.
Slightly, there are numerous pros and cons of social media in healthcare and those are illustrated below (see the infographic).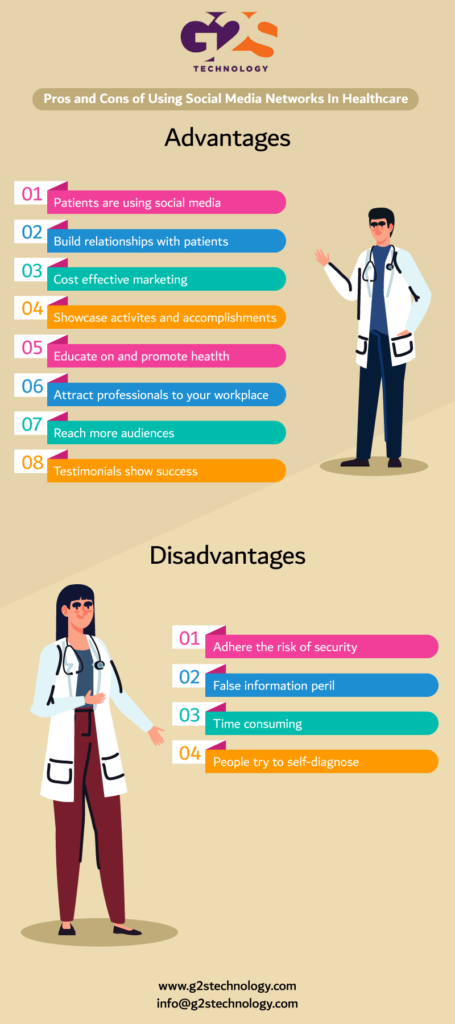 Thanks for viewing the infographic…!
As you notice, there are both pros and cons kindred with social media as a healthcare organization. But, the bouncy part (cons) aren't affecting so much, as there is little-risks involved. In fact, you will see an increase in the website traffic, website ranking, and conversions. So one thing, you'll see positive results.
Some Most Top-Rated Social Media Marketing Ideas For Healthcare
Need some inspiring social media marketing ideas for your hospital?
Look at these some of the most fragile ideas you can incorporate into your social media marketing practice to yield some positive results.
Answer Questions and Respond to Inquiries
Answer questions posted via social media comment and forum.
As a medical care supplier, you'll probably get a great deal of inquiries, requests, remarks, criticism, and surveys. It's significant that you don't overlook these. Ensure you are consistently prepared to draw in with the voice of the patient.
Invest In Video Content 
(About 65% of healthcare companies in India are using video content marketing strategy and witnessed a 20 percent conversion increase)
The second most used idea on social media is 'Video Content' refers to any content format that features or includes video.
Thereby, you can use educational videos and service guiding (how-to-do) videos to educate patients thoroughly on your social media accounts. This may also trigger patients to learn more about your service offering by visiting your website and may request an appointment.
Online Webinars 
(About 35% of reputed hospitals use online webinars to promote their services online and build relationships with potential patients)
Schedule or post webinars on your social media profiles as these are extremely wise-method to build personal relationships and have real-time conversations.
Additionally, webinars give you the opportunity to teach and help patients to understand why our product/service is valuable in the first place.
Blogging 
(Almost 86% of healthcare websites have a blog section and promote it on social media accounts)
Many healthcare professionals recommend this idea at will to build substantial growth for your social media platforms.
Blogging refers to giving or sharing links of website blogs, articles, or any other blog-related content format to provide detailed guidance about something to your social followers.
Poll
(Live polling results in 80% quick audience feedback compared to normal post on social media platforms)
Finally, you can raise polls on your social media to see the audience's behaviours and how they react to a particular subject.
This is helpful because you will receive instant feedback from your customers, further leading to having a better understanding of theory.
Currently, you can use the power of polls on Facebook, Instagram, and Twitter. If your healthcare focuses on YouTube, you can also raise polls there too.
11 Healthcare Social Media Marketing Strategies for Your Center
To decide what healthcare marketing works best, you need to research your audience and the platform which you are trying to connect with them.
If you are in search to do more with your healthcare social media marketing plan, you might try mentioned tips for better healthcare social media promotion to earn more likes, shares, and interactions from your patients.
1. Share Pre-emptive Health News
Life and Death (time-sensitive) news or post updates highly encourage your audience and build positive long term relations.
For example: New Covid Delta Virus Post Urge To Wear Face Mask by Preksha Hospital.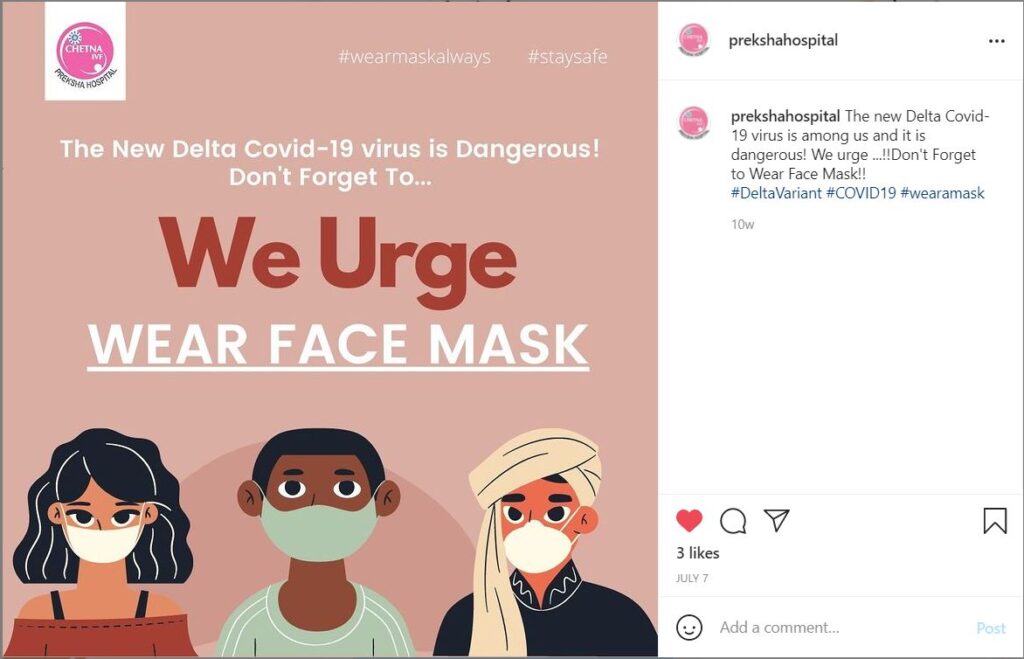 Even though you can post a link to an article or a website blog that develops a time-sensitive trigger in the audience.
2. Engage (and Educate) Patients
The reason why a number of people follow you is just to hear good news and healthcare facilities from your healthcare occupations.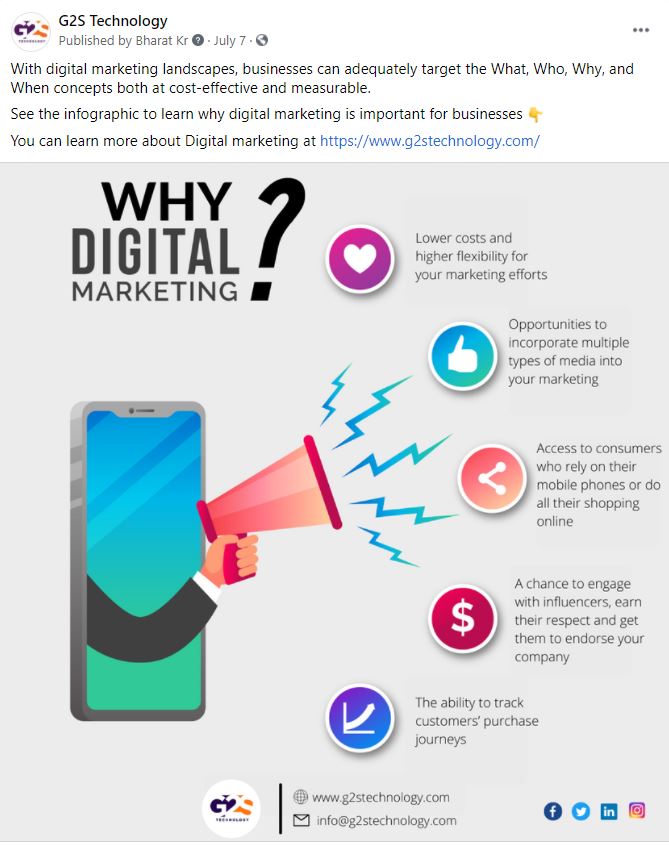 This type of post content can create conversion(s) be it increase calls, boost website traffic, and so on. That's why your healthcare social media marketing strategy should include sharing educational materials.
3. Raise Awareness for Events, Treatments, and more
This is important to keep updating your online followers with doses of pre-schedule events or updates about some new treatment procedure.
This type of healthcare social media marketing strategy creates anxiety in people's minds.
Additionally, you may also highlight an upcoming event at your location before time and then share some exciting research findings the next time.
4. Show Your Brand in Everything You Do
Even if your hospital is specialized in one field, don't just focus on promoting content considering one streamline. Surprise your followers by doing unique things.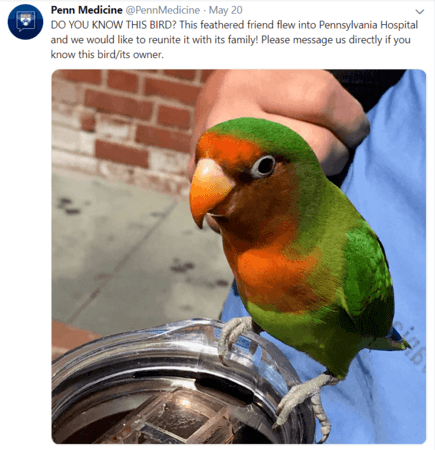 In the above model, for example, this clinic shared an impromptu post to track down the proprietor of a lost bird. For clients, this sort of post accentuated the emergency clinic's obligation to aid, just as it displayed that it gives quality consideration to everybody — creatures included.
5. Highlight Member Accomplishments
Revise why you are on social media! Honestly, you want to build a trusted relationship with your audience.
Right..!
Highlighting your center or staff's accomplishments can contribute to that goal. You can even highlight past award-winning certificates and trophies, and receive recognition for research to your audience.
6. Embrace Client-Generated Content
User generated content (or content made by clients) is an amazing healthcare social media marketing method. Individuals trust the suggestions of others, from their companions to their family, and having client produced content that supports your office is a huge success.
Just remember to take consent from patients' permission for re-sharing their content.
7. Depict Story by Going Live
Well, many social media apps allow you to go live and share with your followers.
When you decide to go live, adhere to your content for the audience. Ask yourself, is it worth it for the audience?
And if yes you will likely collect good impressions and engagement from audiences.
8. Handle Patient Queries
When you provide solutions to the patients problems – it builds trust and often they recommend your service throughout their lifetime.
Utilize online media to answer patient's interests and objections. Complaints can be dealt with through online networks and conversation gatherings on Facebook.
9. Create Branded Social Media Campaigns
Campaigns are an excellent medium to invite more new patients and develop their interest towards your healthcare organization.
You may use the following social media optimization campaigns for your healthcare promotion: 
Polls
Events
Giving Back
Partnerships
Contests plus Giveaways
10. Brand Building and Reputation Management
This is the common objective of every kind of business to build a positive brand for their target audiences.
And that is why many healthcare organizations consider online reputation management. The companies then manage their social media accounts spreading positive word of mouth through patient testimonials and gathering new customer reviews, suggestions and feedback.
11. SEO Through Social Media
At the point when individuals look for specialists and medical clinics on the web, they are probably going to discover their business profiles on online directories and social profiles on Facebook & Google + in search results.
Assuming you need your organization's substance to show up naturally for non-marked pursuits, then, at that point your profile details and shared content should be search engine optimized and it is widely done using search engine optimization.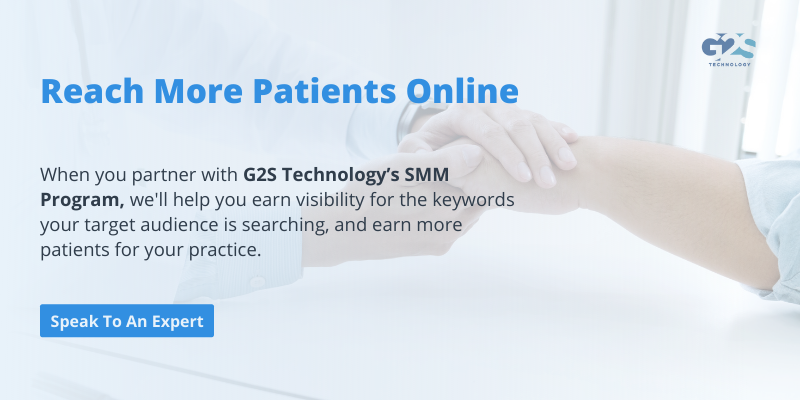 Current Challenges To Healthcare Social Media Marketing
The majority of healthcare professionals are still leery of entering into the social media universe as they surmise for fear that they will compromise patient privacy, provide inaccurate medical advice, and fear for untragic patients' behaviour.
But let me tell you one thing, these are all just flaws of myths and nothing negative happens. In fact, the majority of hospitals and doctors are finding impressive results when coming online and closer to patients.
However, we can't ignore some degree of challenges posed to healthcare in social media marketing. Those are –
A number of healthcare professionals have the desire to stay underground professionals (without having social media accounts) worry that their presence on social media may label them as unprofessional with potential patients.
They are afraid of HIPAA compliance but the fact is the community offers specific guidelines on how to safely post information, comments, photos, or videos online.
The hospitals have fear about getting negative comments and someone may be offended.
Conclusion, Health Insurance Portability and Accountability Act compliance is one of the biggest challenges of social media in healthcare. But the community itself educates healthcare by practicing friendly privacy and offers such authority to post without violating patient privacy laws.
The Best Platforms For Healthcare Social Media Marketing
Social media apps are flooded like the ocean and entirely benefiting the healthcare industry with its features and advantages. Here are some three major social media networks you can use and learn how to help plan your healthcare social media marketing strategy.
No.1 – Facebook for healthcare
If you use facebook utility tools to promote and engross internal and external affairs of healthcare management with facebook audiences (about 2.89 billion) is lucrative and beneath potential ROI.
You might use Facebook to:
Advise individuals about a forthcoming open house
Remind patients about occasional wellbeing concerns
Allow you to post updates about your practice and events, both graphically and video
No.2 – Twitter for healthcare
Twitter being an excellent medium of communication for trending agenda(s) and high-level controversy. The users are thoroughly active and aggressive to each trend post.
You might use Twitter to:
Post the consequences of another review distributed by a worker at the clinic
Report a partnership won by one of your primary care physicians
Feature a story in the neighborhood paper about your medical clinic
No.3 – LinkedIn for healthcare
It is being said that Linkedin is the home of professionals and only the professionals community practices can take benefits from linkedin.
Do you agree?
Likely, the linkedin platform does not help you connect with new patients, but you can bloom your reputation wisely and can compete with niche hospitals, even you can learn from them or they.
Also Read:
How to Write Engaging Social Media Posts That (Sell 100%)
5 Creative Ways to Promote Your Product on Social Media
15 Important Benefits of Social Media Marketing
Need Help With Healthcare Social Media Marketing?
Healthcare businesses are going smarter day by day and with everyday new prospective challenges to secure patient health is being topmost priority while making fame on the social platforms is also important.
Start including these tips into your healthcare social media marketing strategy to increase patient engagement and trust.
If you'd like to dive into healthcare social media marketing but just are not sure where to begin, get in touch today. We can help!

11 Social Media Marketing Strategies for Hospitals & Healthcare Industry